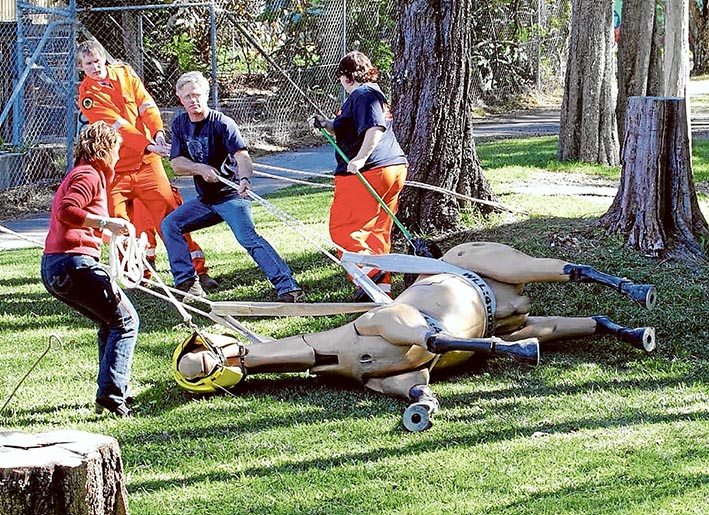 A MORNINGTON Peninsula horse group is hoping to raise enough money through a training workshop to provide rescue workers with specialised knowledge and more equipment to deal with large animal rescues.
In the past four years there have been at least two serious accidents involving horses on the peninsula, with one horse needing to be winched out of a swimming pool in Mt Eliza in 2012, and more recently, a horse falling down a well in Hastings. Sadly, that horse died.
Alan Costello from Mornington Peninsula equine landcare group, which is sponsoring the workshop, said CFA and SES emergency workers are invited to a free workshop at Main Ridge on 12 November. Other interested people are also welcome to attend at a cost of $75, which includes a light lunch.
The one-day event, run by the Queensland Horse Council, will use the Lancefield Equestrian Group's new rescue training horse mannequin and equipment.
Guest speaker, Nicole Graham, whose horse Astro was rescued from mud at Avalon Beach last year, will tell of her ordeal.
Nicole will describe her relief when emergency workers and a vet arrived, their frustration when they realised they really didn't know what to do and that they didn't have appropriate equipment, and how the rescue affected both her and her horse physically and emotionally.
Mr Costello said the equine landcare group hoped to buy a harness and other rescue equipment, provide training for emergency workers, and have a designated large animal rescue station. He said horses and rescuers could be injured by unsafe rescue techniques.
"It really is a specialised skill and it poses risks for both horses and rescuers," he said.
He said the workshop had attracted a lot of interest, with so far around 35 emergency workers wanting to adapt their rescue skills for large animals.
Details: Main Ridge Hall, Main Creek Rd, Main Ridge from 8.30am-3.30pm.
Contact: Gai Van Staveren on 0418 517713 or Alan Costello on 0412 549994.