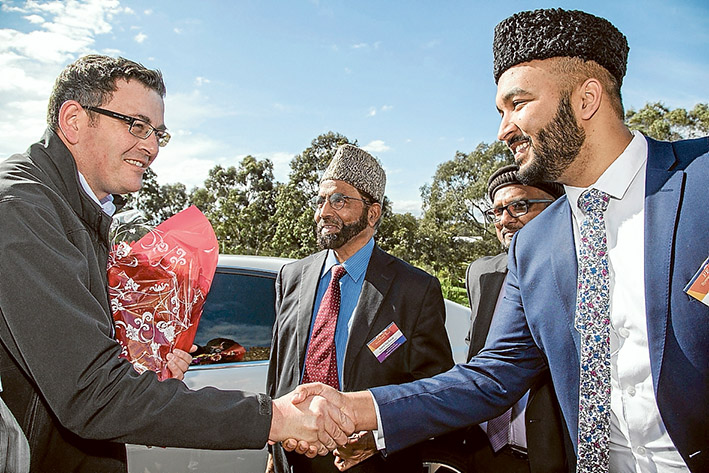 THE Premier Daniel Andrews was among four politicians and more than 400 guests at the annual peace symposium at the Ahmadiyya Muslim community Australia's Bait-ul-Salam mosque in Langwarrin on Friday.
The Ahmadiyya muslims, a movement which describes itself as a "fast-growing international revival movement within Islam", has been hosting the peace symposium for the past 13 years, with the aim of promoting an understanding of Islam and other faiths.
The Ahmadiyya Muslim Community Australia national president Imam Inam-ul-Haq Kauser said the symposium provides a "unique platform" for leaders of all faiths to sit under one roof and discuss ways to establish lasting peace in society.
He said the message of peace and harmony is more "crucial than it has ever been".
"Our objective is to bring communities together and making (sic) an alliance with the help of religious, secular and political leadership to establish peace and harmony in our society."
Mr Andrews arrived a little late after being driven from Moorabbin airport after inspecting flood damaged western Victoria.
His attendance at the symposium comes in the same week Pauline Hanson gave her controversial first speech in the Seante, where she said Australia risks being "swamped" by Muslims.
"We are in danger of being swamped by muslims who bear a culture and ideology incompatible with our own," she said.
Ms Hanson, known for her sensationalist views on immigration and multiculturalism, claims Islam represents a threat to Australia's way of life, and has called for borders to be closed to immigrants.
Other guest speakers at the symposium included the MP for Holt Anthony Bryne, shadow minister for multicultural affairs Inga Peulich, consul general of India Manika Jain, and Frankston Uniting Church's the Rev Jay Robinson.
The Ahmadiyya muslims, a movement originating from Punjab, British India in the 1800s, believes that God sent Ahmad, like Jesus, to end religious wars, condemn bloodshed and reinstitute morality, justice and peace.