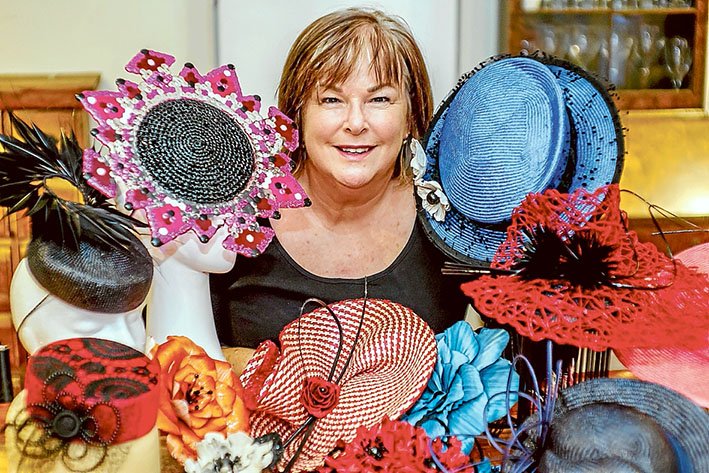 JO Peterson's "hobby" makes her a popular point of call  for followers of fashion at this time of year. The Spring Racing Carnival and Royal Melbourne Show are the peaks of her times to shine.
The Tootgarook student milliner had four hats on display at this year's show and won Best Millinery Exhibit, coming first and second in the spring millinery category.
Last year she was among the top 20 at the Oaks Day Millinery Awards, was runner up in the Peninsula Cup Millinery Award, won the Millinery Association of Australia student encouragement award for best hat on the catwalk, won the essential hat award for best felt hat and was a finalist in the 2014 Mornington Cup Millinery Award.
Peterson and another fashion design student had three headpieces in the Emerging Designer show as part of Melbourne Spring Fashion Week.
"I was shocked," Peterson says of her early successes. "Of course you hope you will win, but winning the first time you enter is an amazing feeling."
Peterson, who works in the chemotherapy department at Rosebud Hospital, is adding to her qualifications with a Certificate III in millinery at Kangan TAFE.
She admits to being "obsessive" about her hobby which she finds engrossing.
After starting hat-making three years ago, Peterson said she came to the conclusion that she was "good at it" and quite capable of making a financial go of the trade.
She charges up to $250 for a hat, with some taking up to 30 hours in a "long labour of love".
"I have regular clients who compete in fashions on the field at Flemington or for fundraising events and design hats to go with their outfits," she said.
A career highlight was being named in the top 20 of 80 milliners by royal milliner Stephen Jones during last year's Spring Racing Carnival.
"He was Princess Di's milliner and that makes him special to me," Peterson said.
First published in the Southern Peninsula News – 4 October 2016