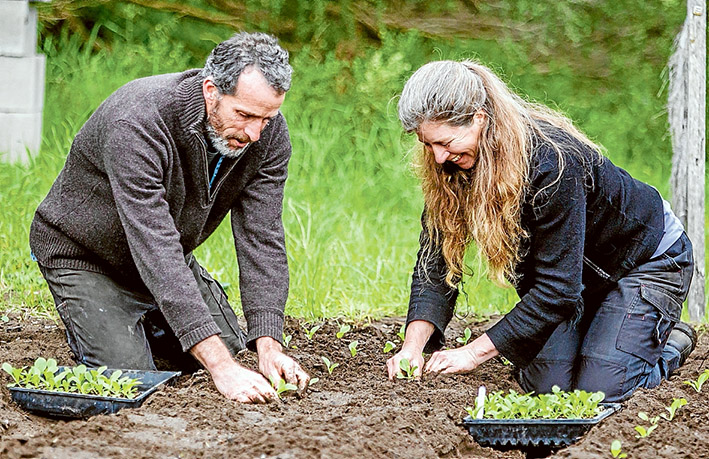 JUST over six years ago Peter Carlyon and his wife Robin had a vision to get back to the basics of farming and grow high-quality, chemical-free produce for the local market on the Mornington Peninsula.
Just years earlier they had left their farm near Mansfield after becoming disillusioned with commercial farming practises and had given up the idea of ever getting back into the field.
But a chance to do it biodynamically on the peninsula gave them the motivation to have another go, this time their way.
In a food-obsessed market where the origin of the food on the plate is a topic of conversation, it's no surprise that their small Fingal farm is today winning praise from consumers and industry leaders.
The first-generation farm uses biodynamic, chemical-free growing practices that focus on soil health and soil life, not only helping to preserve the natural ecosystems but keeping the "real food" taste alive.
"We love growing things and are very good at it, but the commercial farming industry just wasn't for us and so we left farming back then because of it," Robin Koster-Carlyon said.
"We moved to the peninsula to be closer to Peter's family, but we never let go of the idea and passion for farming."
By using these practises with integrated pest management, cover cropping and intensive planting, the Carlyons are able to grow large quantities of produce on less than three acres without chemicals.
They then distribute the produce under the "community supported agriculture" model, where local customers pay a seasonal membership fee to help cover the cost of production.
Robin said they would love to see more small-scale farmers in the industry, and have in the past had "interns" who have picked up some the skills required for biodynamic farming.
Although it is time consuming and labour intensive, with the Carlyons doing everything from growing the seedlings to planting and picking, the rewards speak for themselves.
It was their fabulous brode galeux d'esines' pumpkin that recently won the "From the Earth" category in Delicious magazine's produce awards, with a judging panel that included Matt Moran, Andrew McConnell, Peter Gilmore, Alla Wolf-Tasker, Maggie Beer, Guillaume Brahimi, Christine Manfield and Shannon Bennett.
Ms Koster-Carlyon said Maggie Beer described the pumpkin as "one of the great flavours of my life".
The award, which draws growers from all over Australia, recognises excellence in produce and innovation.
Renowned chef Paul Wilson said the quality of the food and the sustainable ethics that underpin the Carlyon's operation "amazed" him.