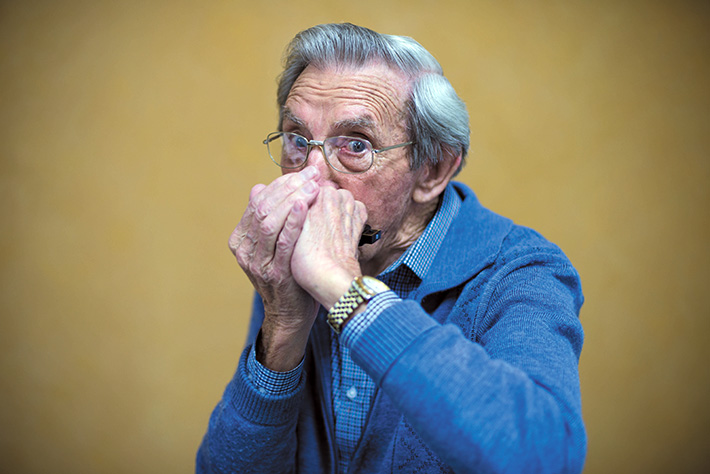 AT 90, Sidney Cartlidge deserves a well-earned rest and could be forgiven for hanging up his harmonica.
But the music has not stopped for the sprightly nonagenarian, who still enjoys entertaining others and can be found regularly delivering "music therapy" and playing tunes at aged care homes around Mornington.
A harmonica player since he was 10 in Staffordshire, England, Mr Cartlidge's love of music and enthusiasm for performing have not waned over the years, despite a forced hiatus in 2014 when he and his musician mates had to seek a new venue. At the time, the self-funded concerts he performed at the Morven Manor retirement village were so popular and the crowds so large that the band literally outgrew their welcome and had to start looking for a new venue with more parking spaces.
Two years later Mr Cartlidge is still performing at aged care centres around the peninsula and still believes music therapy is the best medicine for all people in "their retirement years".
"It brings new friendships and extends the desire to get involved with many senior activities on the Mornington region," he said.
Mr Cartlidge firmly believes that brain functions such as knowledge and understanding are enhanced as people age, and that these open up new activities and opportunities.
Hs determination to stay involved and be active is testament to that philosophy.
At his home at Morven Manor "Sid" has a range of harmonicas to cover different events, a keyboard and his "latest find", a Technics theatre organ.
His repertoire is arranged to provide songs that relate to "the golden age" – great music of bygone days, including When Irish Eyes Are Smiling, Music from Amsterdam, It's a Long Way to Tipperary, and Waltzing Matilda.                
First published in the Mornington News – 11 October 2016