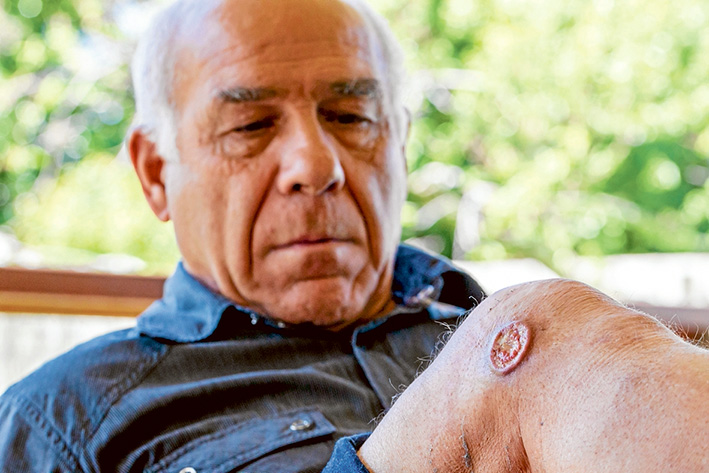 FRANKSTON and the Mornington Peninsula have emerged as "hot spots" for a flesh-eating bacteria that leaves sufferers disfigured and has doctors baffled.
Variously known as the Bairnsdale ulcer, the Daintree ulcer and the Baruli ulcer, the infectious disease is affecting up to four residents a week in the Frankston and on the peninsula.
Data from the Department of Health shows that 42 cases have been reported in Mornington so far this year, up from 33 last year. In Frankston, there have been 12 cases, up from seven last year.
State-wide there were 106 cases of the infection last year while already this year 108 cases have been recorded.
The bacterium is thought to enter the bloodstream via a mosquito bite, but little is known about the source.
Head of infectious diseases at Peninsula Health Dr Peter  Kelley said the rate of infection on the peninsula had increased steadily every year since it was first detected in the south east in the early 2000s.
However, he admitted doctors knew little about its origins, the reasons for the increase, or the methods of transmission.
The disease, caused by the Mycobacterium ulcerans bacteria, causes a small, painless bite-like mark which, if left untreated, will ulcerate and form large gaping wounds. In severe cases, the bone can be infected.
Dr Kelley said the ulcers were common in tropical climates, such as Queensland, and were common in rural sub-Saharan Africa and Asia, where poor healthcare often led to severe infection and amputations.
He said since 2011 the number of people presenting at Peninsula Health had increased significantly, but doctors were unsure why.
"The peninsula area is emerging as a bit of a hot spot, but nobody knows why," he said.
"We know it has been associated with stagnant water and coastal vegetation, and there has been some evidence gathered that mosquitoes are involved.
"If you can avoid being bitten, you probably avoid the disease."
Every year there are 5000-6000 cases worldwide, according to the World Health Organisation, but Australia is believed to be the only developed country with significant Bairnsdale ulcer outbreaks.
Dr Kelley said it was important to raise awareness of the disease among doctors and the public, as the key to recovery was to pick it up early.
Rye resident Vincent Misitano believes he may have been bitten by an infected mosquito in May last year, but it wasn't until he returned from an overseas trip that he sought treatment for a sore that wouldn't go away.
He described the initial wound as a small bite that looked like it was "brewing" underneath.
"The doctor took a swab and, once it was confirmed, I had to take two courses of antibiotics and have regular wound dressings, and while it's slowly getting better it has still not gone completely," he said.
A keen gardener, Mr Misitano believes he may have been bitten while gardening and is urging people not to ignore insect bites.
Dr Kelley said he expected infection rates to rise significantly with the onset of warmer weather, and warned people to use insect repellent and cover up outside.
There is some evidence that the bacteria can be transmitted from mosquitos to wildlife, as it has been found in wildlife faeces.
A 2007 study in Point Lonsdale, Victoria, detected Mycobacterium ulcerans among 11,000 mosquitoes.
It is a reportable disease and the third most common bacterial disease after TB and leprosy.