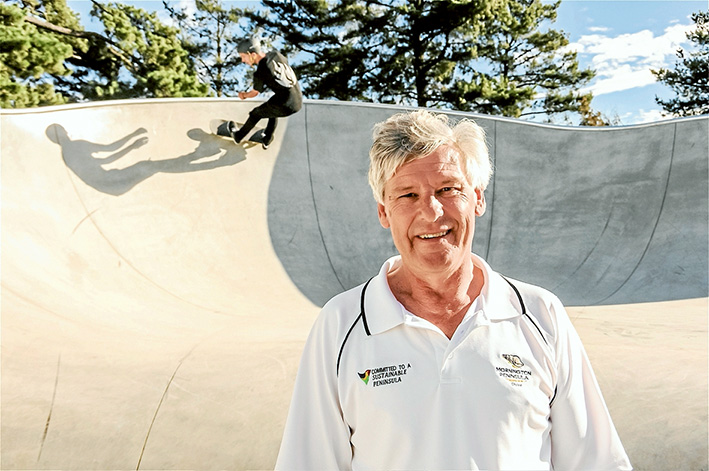 A DRUG conviction for a crime committed nearly 40 years ago has become an election issue for one of the three vacant Briars ward seats on Mornington Peninsula Shire Council.
However, judging by comments posted to social media, an obvious attempt to smear candidate Leigh Eustace (pictured) may have backfired.
Most people involved in the online debate since last Wednesday's revelations of Mr Eustace's conviction for trafficking heroin have argued that he has paid his dues and his three years spent in jail should not be held against him.
"This is a sad day for local government. A lovely guy who has worked tirelessly for his community and is there for the right reasons is having his name dragged through the mud by someone threatened by him," was an early comment that summed up many posted on The News's Facebook page after the story was released late Tuesday night ("Candidate goes clear on convictions").
Other posts included: "Shame on those who dragged this out"; "He gets a guernsey from me"; "Dirty politics indeed; and, "I would not want to be judged today on my behaviour of 40 years ago".
A former Mornington Peninsula Shire councillor and now a candidate for the Briars ward in this month's municipal elections, Mr Eustace came out and publicly admitted to having being jailed for drug trafficking after details were posted on a Facebook page.
He was 20 at the time of the offences and 22 when he was convicted.
Now 58, Mr Eustace says he "did the crime and served the time".
He readily admits to making mistakes earlier in life but sees no reason, other than for political gain, why his crimes were published on social media.
He said he had made "some poor decisions" and supplied friends during the 1970s "when hard drugs were common on the local scene".
Since publication of his comments by The News Mr Eustace has been interviewed by radio 3AW broadcaster Neil Mitchell, The Age and had his case discussed by a panel on Channel 10's breakfast show.
"It's [the revelations of his conviction] probably done more good than harm," Mr Eustace said on Friday.
"I was always concerned it would come up at some stage and now someone's brought it up as a dirty [election] trick. But it's backfired, if all the positive feedback I've received is anything to go by."
With 15 candidates competing for the three Briars ward vacancies the scramble to attract votes has become intense, with social media being used to expose Mr Eustace's past crimes.
In a move that can only have been designed to discredit his candidacy, a copy of his Supreme Court appeal against the severity of his 1980 conviction was posted by someone using a fictitious identity on the Facebook site of Frankston District Ratepayers Page & Regional Political Forum.
The post was soon taken down by the site administrators, but not before the revelations had gained some traction.
Reaction to the post on the political forum's site was mixed, with several comments criticising the airing of Mr Eustace's criminal record.
While one comment asked "does it get more worse than that", others said they admired someone who, afterwards, was able "to make something of their lives". Another post pointed out that a recently elected senator had been jailed and that "I very much prefer people who have experienced life to those who are holier than thou".
Brad Hill, a former Frankston councillor, said the case was "an example of someone with an axe to grind, and someone else who has successfully rebuilt their life".
He was "happy to endorse Leigh … and I hope he gets elected. Quite obviously, somebody is scared he will".
Mr Eustace's appeal to the Supreme Court was partly successful in that it managed to shave six months off his initial seven-year sentence.
He eventually served three years in jail (Pentridge and a prison farm) followed by four years' probation.
At the time of his conviction Mr Eustace, a former Monterey Technical School student, was a qualified motor mechanic.
While in prison he successfully applied for a computer science degree at Chisholm Institute and began studying for a new career within days of his release.
"I saw it as my way to redeem myself and become a valuable member of society.  Prison is a tough place and it was my way of escape from the day to day horror of prison and i turned these skills it into a successful peninsula business," Mr Eustace said.
He nows says It is "horrible" to see the impact on the community "of drugs such as alcohol and ice" and for more than 30 years had seen sport as a providing a healthy alternative.
"I have seen and experienced things that people only read about, so I am open to all members of the community and all their experiences," he said.
As a result "nothing shocks me" and his "life experience" enables him to have a "grounded approach" when helping others.
He said his "mission in life" was to "encourage people … not to make the same mistakes that I did".
Elected as a councillor in 2008, Mr Eustace lost his seat in a tightly contested election in 2012.
During his fours years as a councillor for the Mt Eliza ward (now included in Briars ward) Mr Eustace underwent governance training with the Municipal Association of Victoria, attended workshops held by the Victorian Local Government Association and the Australian Institute of Company Directors.
In his latest election campaign Mr Eustace says he will "strive" for better facilities and services "for all, including the growing number of younger families, social and recreational clubs".
He also wants to ensure protection for green wedge zoned areas, foreshores and reserves.
"My goal is to keep the character of the shire through appropriate planning."