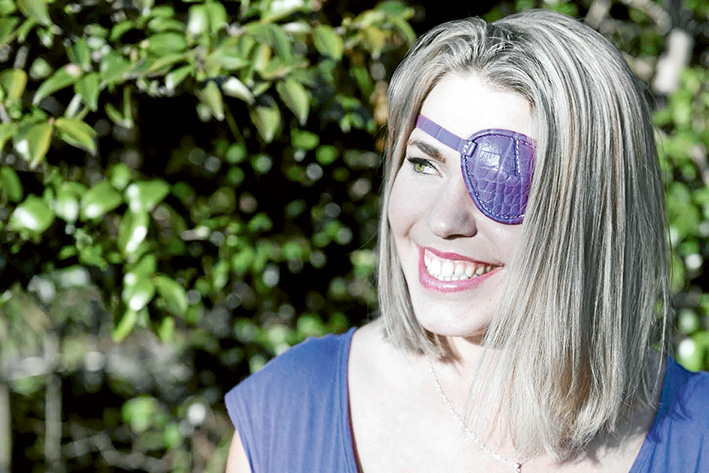 IN her short but inspirational life, 23-year-old Jess Van Zeil has not asked very much of others. The high-achieving Frankston South resident, who grew up in Mt Eliza and worked in Mornington, is now asking for help from others to give her a chance at life.
At 22, Jess had the world at her feet – just weeks away from completing a degree in nutrition, on the brink of a part-time career in motivational speaking, and working up to 30 hours a week at a job she loved.
"My life was completely different, I was busy being busy, and focusing on the future," she said.
But Jess's world came crashing down when biopsy results from a small spot on her eye, misdiagnosed the year before as benign, confirmed a particularly aggressive type of cancer.
Despite surgery, the cancer had spread and doctors were forced to remove Jess's eye and eyelids, and close the socket.
But just months ago, when Jess thought life was back to normal, at a full-time university course, running six days a week and setting up her own business, a seizure sent her back to hospital and doctors found tumours on her brain, only one of which was deemed operable.
Now a crowdfunding campaign, a call for help by her family, to raise money for an expensive dual drug therapy costing about $120,000 is Jess's best hope for survival.
While about $62,000 has been raised to start Jess's treatment, more is needed to get access to the full course of drugs therapy.
Incredibly, despite the future being uncertain, Jess is determined to stay positive.
"I live every day, I don't waste my time, I smile, I laugh and I enjoy everything life has to offer. A full life is not something that was ever guaranteed to us, just because I might not have a long life doesn't mean I can't have a full one," she said.
Only one of the medications Jess needs to arrest and treat the cancer is available on the Pharmaceutical Benefits Scheme, but the first two years of dual medication is expected to give her the best chance.
At first, Jess rejected the treatment because she didn't want to burden her family with the expense, so when the idea of fundraising came up, she didn't feel there was any alternative.
"After one or two years of both drugs, I should be able to move on to the single treatment of PBS-funded medication, but we just have to be able to afford those vital two years," she said.
Jess has used her experience to help raise awareness about cancer and is an ambassador of Melanoma March and participated in the opening of the You Can Centre at Peter Mac.
To help Jess receive the medication that will give her a chance at life, donate at chuffed.org/project/jesss-fight-for-life online.