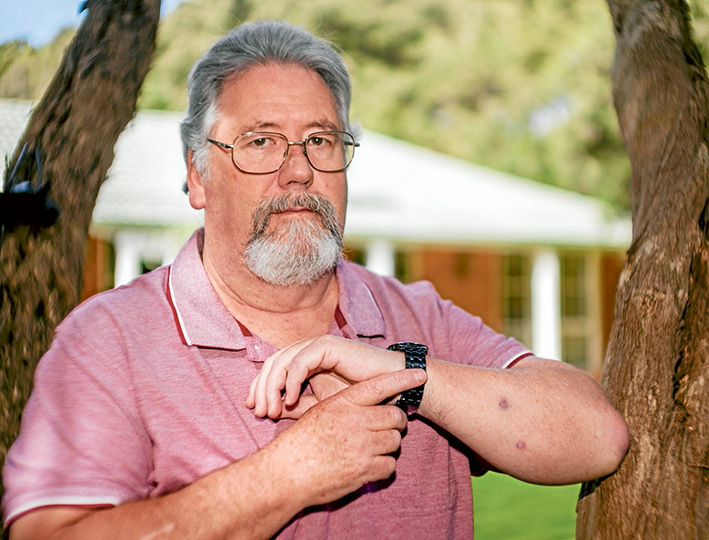 VICTORIA'S mosquito plague has raised fears that the increased risk of mosquito-born diseases such as the flesh-eating Buruli ulcer  – already prevalent on the Mornington Peninsula – could soar.
But concerns are falling on deaf ears according to Rye resident Pete Connell, 64, who was infected by the Mycobacterium ulcerans bacteria last year.
Mr Connell accuses health authorities and government officials of "passing the buck".
Frankston and the Mornington Peninsula are "hot spots" for the Buruli ulcer, a notifiable illness that worldwide is the third most common bacterial disease after tuberculosis and leprosy ("Flesh-eating ulcers on rise", The Times 17/10/16).
Mr Connell has written to more than seven MPs and Prime Minister Malcolm Turnbull in an attempt to have the national health risk upgraded. He believes the coming months pose a serious risk to residents and holidaymakers coming to the peninsula.
"Why in 2016 can a hideous, reportable disease not be on any local, state or federal health priority list?" he asked.
"Why is no government prepared to take any responsibility?
"We the community elect and place our trust in all the forms of government that should be protecting us from this insidious disease."
Mr Connell said health authorities should be sending health warnings directly to schools and community groups, including aged-care facilities.
Data from the Victorian Department of Health and Human Services  showed there were 42 cases of Buruli ulcer reported on the Mornington Peninsula by mid-October this year, up from 33 the same period last year. In Frankston, there were 12 cases, up from seven last year.
The health department has just issued a warning to people to take precautions against insect bites, after floods and heavy rains had caused an increase in mosquito numbers.
Recent rains and warm weather had provided perfect breeding conditions for the insects, and as a result, the department is bringing forward insect "surveillance and control programs".
People are being warned to protect themselves from bites because of mosquito-borne diseases such as Ross River and Barmah Forest viruses, which cause joint inflammation, pain and rashes.
However, despite recognition of an increase in cases on the peninsula and the "changing pattern in geographical distribution of disease", there are no plans to increase the seriousness of the Buruli ulcer bacteria.
He said the department was working "with stakeholders" across Victoria to identify what controls could be put in place.
Mornington Peninsula Shire environment protection manager David Dobroszczyk said council will be monitoring mosquito hotspots throughout the peninsula. He said there was advice on how people could protect themselves from mosquito bites on the shire's website.
If left untreated, the bacteria can cause large ulcers that require antibiotics and leave disfiguring scars.
A study published in 2012 by Barwon Health, which analysed 180 cases of Bairnsdale/Buruli ulcer managed at Barwon Health from 1998 to 2011, found two cases were so severe it had caused bone infection.
Federal Health Minister Sussan Ley told Mr Connell, via Flinders Liberal MP and Science Minister Greg Hunt, that the government had spent about $800,000 on research into the bacteria in recent years.
Mr Connell said he had not had a reply from the Prime Minister.
First published in the Southern Peninsula News – 1 November 2016