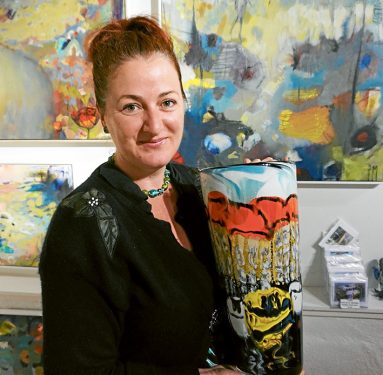 THIS year's 45th Mornington Art Show will run for seven days, kicking off on Thursday 19 January at 7pm to a party atmosphere with a lucky door prize, food, refreshments and music.
The exhibition at Peninsula Community Theatre, Wilsons Rd, Mornington, opens 10am to 5pm daily and ends on Australia Day 26 January, is recognised as the biggest and best quality art show on the Mornington Peninsula. This year's show is no exception, with 827 entries by artists from all over the country.
In recognition of the Rotary Club of Mornington's 'sailability' program, the show will be opened on the Thursday night by two naval officers from HMAS Cerberus, in a nautical-themed setting at Mornington's Peninsula Community Theatre.
Throughout the show art from VCE students at Toorak College, Mornington Secondary College and Balcombe Grammar will be on display, demonstrating a wide range of art forms.
There will be a display of art colourful glass work by Roberta Easton, who has been glass blowing for more than 20 years.
Her work includes platters, vases, plates and paperweights and a range of animal-inspired shapes.
Visitors to the show will have the opportunity to buy an original piece.
Feature artists at this year's show, Gary Davy and Ron Brown, are both professionals but with differing styles. Davy is an award winning artist with an impressionistic approach featured in his seascapes, while Brown paints in a contemporary style with colour featured strongly.
There will be plenty of the opportunity to buy donated goods and luxury accommodation vouchers in the silent auction, including the Mornington BMW $750 accommodation weekend involving the use of a BMW car, accommodation for a Saturday night and a three-course a la carte dinner. Other prizes include a $700 RACV resort voucher, accommodation and breakfast at Brooklands, dinner voucher for Manhattan Restaurant, lunch for two at Licciardos in Mt Eliza, peninsula wines and beauty treatments.
Raffle prizes at this year's show include a $1500 garden package from Bunnings Mornington, and $1000 worth of RM Williams clothing from Cameron's Town and Country, RACV Resort gift package, a blue tooth speaker from Office Works and two fishing rods.
Art show judge Julie Goldspink is an artist who works in a range of mediums, but best known for her watercolours.
She is a member of the Australian Watercolour Institute, an exhibiting artist and a judge.
Art works on sale range from around $150 to more than $4000, and can be bought using bank card facilities.
Over the 44 years of the Mornington Rotary Art Show more than $1million has been raised, with most going to support peninsula community projects, including schools, leadership programs, health services and sailing programs for the disabled.
The remainder has been spent on International Rotary and Australian Rotary health projects such as research, the eradication of polio throughout the world, tsunami relief, and support for bushfire and flood affected communities.
Opening night tickets can be bought online from morningtonartshow.com.au, from Farrell's bookstore, Mornington, or at the door on the night.