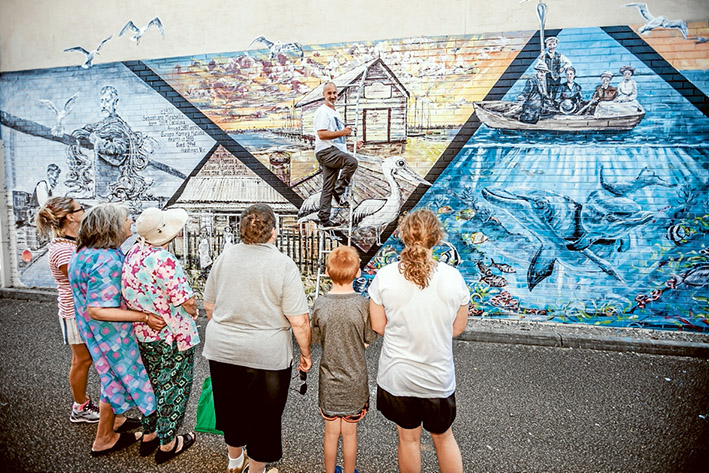 A STUNNING artistic depiction of Western Port's maritime past is turning heads at Hastings.
It took renowned Mornington Peninsula artist Simon White two weeks to complete the High St mural, but months to research the region's rich history, speak to key characters and plan how best to tell the tale in images.
The seven images tell the region's fascinating narrative from 1860 to today, and reveal Mr White's passion for connecting with history through art.
"As we all rushed around preparing for Christmas and all the festivities, we have been intrigued as we watched a magnificent mural being painted in Hastings on the wall of the walkway between Woolworths carpark and High St," Hastings MP Neale Burgess said.
"The artist has skilfully depicted highlights of the history of Hastings.  It is a beautiful mural."
Mr White, who also painted the mural of the original Red Hill Railway line at the entrance to The Epicurean restaurant, created the mural in collaboration with students from Western Port Secondary College, and was inspired by images from the collection of the Hastings and Western Port Historical Society.
The mural is part of the Hastings Laneway improvements program and was commissioned by Mornington Peninsula Shire for the wall of Terry White Chemist.