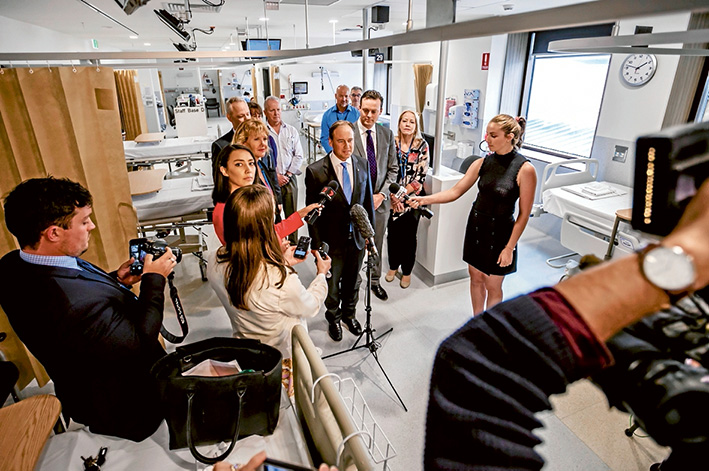 FLINDERS MP Greg Hunt managed to avoid directly answering questions on the future of Medicare during a visit to Frankston Hospital last Wednesday when speaking to the media over his appointment as Australia's new health minister.
Mr Hunt's promotion follows Sussan Ley's resignation and an expenses scandal that now threatens to tarnish his own reputation, after it was revealed last week that between January 2014 and June 2016, the Mt Martha-based MP charged taxpayers $15,500 for overnight stays in Melbourne. In addition, he has spent more than $20,000 for travel to Queensland for him and his family over the past 15 years.
Media adviser for Mr Hunt, Samantha Robin, said it was important for ministers to meet with key stakeholders across the country to ensure that the government "can deliver positive outcomes for our community".
Of his Queensland travel, she said all of Mr Hunt's trips to Hayman  Island were to attend the annual ADC Forum for speaking engagements, panel events and meetings, while the other six trips over Mr Hunt's 15 years in parliament "span his time as a parliamentary secretary and shadow minister".
"On each occasion Mr Hunt was based in a single location and used this as a base for multiple electorate or portfolio visits, events or meetings over a number of days," she said.
Ms Robin said Mr Hunt had conducted several meetings in Queensland with environment groups on Noosa being listed by UNESCO as a biosphere. He has also taken a strong interest in South East Queensland Water Catchment Authority program for supporting improved water quality and revegetation programs, and he had visited a number of sewerage treatment plants in the region. She said accommodation was claimed for dates on which Mr Hunt had formal portfolio duties.
Although he managed to avoid being drawn into the Medicare freeze debate while at Frankston Hospital, Mr Hunt said he had a vision to give Australians "the best health care system" in the world, and that Medicare was the "fundamental underpinning"  of the health system.
"You can understand I haven't been sworn in yet," he said.
"I wanted to set the vision today to talk with the representatives of so many sectors within the health space and as I say I have already had many calls so far."
When quizzed further, he said he would "listen" and "learn" by  talking to health professionals across different areas over the coming weeks.
Citing his family's involvement with Frankston Hospital and his late mother's battle with mental health, Mr Hunt said health touched "every Australian" and he felt privileged to be the country's new health minister.
He also praised the appointment of Aged Care and Indigenous Health Minister Ken Wyatt as the first Indigenous Australian sworn in as a minster,  and said he wanted mental health and Indigenous health to be "a critical part" of his new role.
Before visiting hospital wards, Mr Hunt acknowledged the role of Australia's health care workers, as well as the volunteers "here today at Peninsula Health".
He thanked Peninsula Health CEO Sue Williams, and Dunkley MP Chris Crewther, for their work in securing a four-year funding deal for the expansion of MRI services on the peninsula.
Mr Hunt, who was officially sworn in on Tuesday, also takes up Ms Ley's old sports portfolio, while NSW senator Arthur Sinodinos takes over Mr Hunt's former role as industry minister.