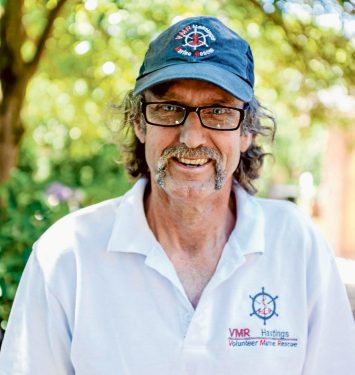 WHEN quietly-spoken Hastings builder Garry Moncrieff found out he was one 12 Victorian emergency service workers to make the 2017 Australia Day Honours List, his immediate feelings were of being "embarrassed" and humbled.
Embarrassed, because anyone who knows Mr Moncrieff, also knows that he volunteers for the Hastings and Mornington Volunteer Marine Rescue (VMR) out of a sense of commitment to the community, and humbled because he is not one to blow his own trumpet.
Few would argue that 36 years of unwavering commitment to the rescue service is worthy of recognition.
Mr Moncrieff was a founding member of the Westernport Safety Council (WSC) in the early 1980s which later became Westernport Marine Rescue (WMR), which in turn was taken over by Volunteer Marine Rescue (VMR) Mornington in 2006.
His time with the service has seen him work tirelessly in the areas of training, community education and emergency management, while also being heavily involved in search and rescue efforts for anyone in need of help on the bay, day or night.
He has been instrumental in spreading the water safety message in the community, raising money and mentoring young people so that they can learn the skills necessary to keep the search and rescue service going.
For Mr Moncrieff, the volunteer rescuers he works beside are all part of "one big family", and the satisfaction of helping people and being part of the VMR team are all the thanks he needs.
There have been call-outs at 3am, on his wife's birthday and on many a Sunday night, when all most people want to do is have a quiet night in.
"To tell you the truth, I'm finding this very embarrassing and all I really want to do is go out and be there to help," he said.
There are dozens of people who are glad he does and some who probably owe their lives – or at least their safe return to harbour – to Mr Moncrieff and his team at VMR over the years.
While he also works full time running his own building company, the busy 58-year-old father of three is still available seven days a week, and can't see any reason to slow down while he's still fit and healthy.
"I can't really see myself not being involved in marine search and rescue, but one day I might cut back a bit."
In acknowledging the emergency service medal recipients, emergency services minister James Merlino said he was "proud" to see that their dedication to protecting Victorians was being rewarded through the nation's highest honours system.
"On behalf of the Victorian Government and indeed all Victorians, I congratulate every one of these twelve medal recipients for this well-deserved recognition."