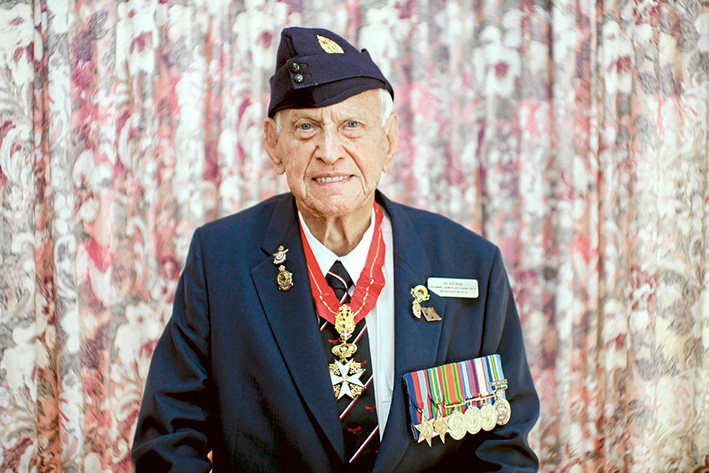 ALMOST 75 years ago, a young Mornington lad and then 18-year-old army enlistee experienced an event that rocked Australia – the unthinkable enemy attack on Darwin.
Next week, the now 95-year-old World War II veteran will fly north again, this time for the anniversary of the bombing of Darwin.
Alan Day, who still lives in Mornington and is president of the Darwin Defenders Melbourne committee, was there in 1942 when the Japanese flew 64 raids on Darwin and 33 raids on other targets in Northern Australia.
The RAAF medical orderly watched in horror as aircraft darkened the skies above Darwin and peppered the small town and harbour with bombs, killing more than 200 people.
It will be a bittersweet experience for Mr Day, who is looking forward to meeting up with other survivors and defence personnel, but who is still haunted by his wartime experiences.
"I'm very excited and honoured to be invited, but I'm not even sure if there will be anybody else that I know, because I'm 95 you know," he said.
Mr Day, who also served in Borneo with the army, said he had seen some distressing things during the war.
"Medical orderlies were faced with some terrible scenes, because we were the ones who had to go out to check the bodies and see who was dead or alive," he said. "It was all pretty confronting."
Mr Day will spend five days in Darwin and will join around 45 former diggers, evacuees, widows and civilians for the occasion, including 29 bombing of Darwin veterans.
Veterans Affairs minister Dan Tehan said Australians would pause and reflect on the 75th anniversary of the bombing of Darwin on 19 February.
He said the attacks had brought World War II to Australian shores, and Australians should pause to remember those killed and those who defended Darwin "on this national day of observance".
The national commemoration, organised by the Northern Territory government, will recognise the anniversary with a service at the Cenotaph on the Darwin Esplanade at 9.30 am, with an air raid siren at 9.58 am to mark the precise time the first attack took place. The Australian American Association of the Northern Territory will also conduct a USS Peary memorial service. "Australia has been fortunate that global conflict has rarely reached our shores and the 75th anniversary of the bombing of Darwin is an opportunity to reflect on the lives lost because of the attack and to be grateful for the men and women of our armed forces who fight to defend us."