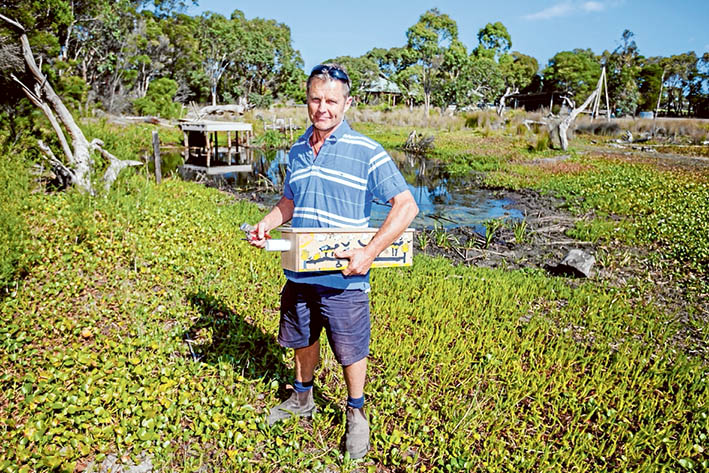 FOR Mt Martha residents Tony and Leeanne O'Connor, the Mornington Peninsula's natural environment and abundance of wildlife are the jewels in its crown.
The O'Connors have rejected the lure of the development dollar and the temptation to keep up with the Jones's to create a sustainable lifestyle and wildlife haven on their five-acre property.
Since buying their bare block 17 years ago, the O'Connors have transformed it into a sustainable habitat, complete with a wetland, vegetable and fruit gardens, and nature corridors.
With limited funds and a passion for sustainability and recycling, Tony built his own mud-brick, solar-passive house using hardwood timbers from an old bridge in East Gippsland and mud from the heavy clay soil found around the property.
The wetland teeming with birdlife is another example of Tony's resourcefulness, and was created by offering developers a place to dump unwanted soil in return for the use of their earth-moving equipment. The wetland, filled with run-off water, now provides a backdrop to the O'Connors' property, and is testament to the couple's commitment to returning the land to nature.
Not content with just replanting his own 2.2  hectacre block, Tony's vision for a greener peninsula rubbed off on Mornington Peninsula Shire which supplied trees to revegetate the entire street, while Tony and his neighbours provided the manpower.
Now Tony is keen to share his knowledge and appreciation of nature with the next generation, and has a vision to get schools involved in teaching students to connect with the natural world.
A part-time teacher himself, he runs programs for primary schools in his spare time that get young people involved in creating wildlife environments along Balcombe Creek, and working with a men's shed to make wildlife boxes for birds, possums and sugar gliders.
"These programs enable schoolchildren to feel that they are personally helping to create a whole new natural environment, and I feel lucky that we can offer our land to help them do that," he said.
"I have a vision of fostering an interest in the environment that's not connected with development or money, and I can use my land to show people that they can do it and how to do it."
Tony, who heads the local Landcare group and is part of the Balcombe Estuary Reserves Group, Berg, also has plans to work with the community to create specialist habitat areas and walking trails beyond the property.
He will give an informative "ramble" on his environmental pursuits for the Berg community session, "Sustainable living in the heart of Mt Martha", 4-6pm Saturday 25 March.
The session will include a sausage sizzle, and the opportunity to follow Tony on an informal tour of his house, veggie plot and orchard, see the wetland and protected areas, and walk to nearby Balcombe Creek to check out his work with local schools.
Where: 9 Century Drive, Mt Martha.
RSVP essential by Friday 17 March. Details: info@berg.org.au or 0447 160 288.