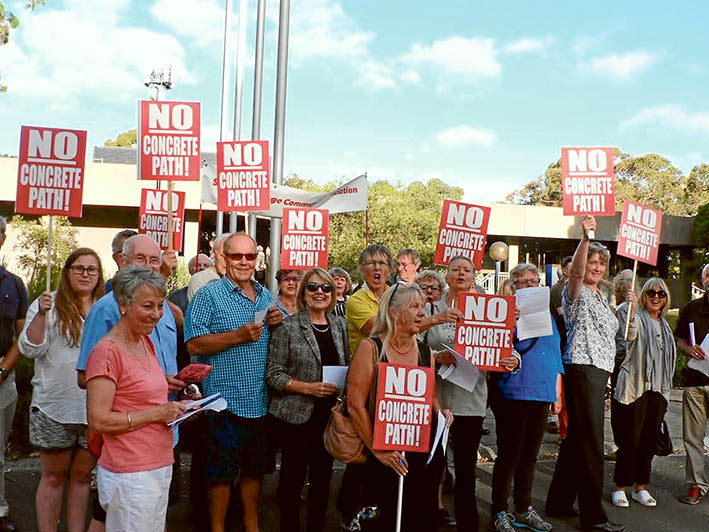 LAST year's protests which forced Mornington Peninsula Shire to scrap its plans for a concrete footpath in Somers has prompted talk of a new community supergroup to represent residents in the seaside township.
While the Somers Village Community Association (SVCA)  had a minor win at the Victorian Civil and Administrative Tribunal last year when the council's case was rejected, the battle is not over, as council prepares to pursue another footpath scheme.
Somers Residents Association (SRA) president Gerry Lewis, whose group supported the council's proposal to build the concrete paths, said residents needed to "work together".
Plans to build a 5.2 kilometre concrete path in the village caused considerable tension in Somers for almost 18 months, with the SVCA eventually launching the legal challenge in VCAT late last year and accusing the council of siding with the SRA.
Despite being on the losing team in the footpath debate, Mr Lewis said the David-and-Goliath battle showed what residents could do if they had a voice.
"The positive step out of this is that we see the need to act together," he said.
"It won't work if two groups are pulling different strings."
Community opposition and the costly VCAT case launched by the SVCA was a significant factor in council abandoning several other special charge schemes around the shire, after surveys showed that residents opposed the plans.
VCAT had rejected the council's plans in Somers largely due to insufficient community consultation, resulting in a new policy on special charge schemes that requires all residents to be surveyed before forcing residents to contribute to infrastructure projects.
Mr Lewis said the council still wanted to build a footpath around the coastal town, but had indicated it might consider a mix of concrete and gravel paths that were more sympathetic to the environment,
"The issue is safety and we need paths because at the moment people have to walk on the roads and you can't even push a pram around town,"
SVCA president Pam Bannister said it was important to "have real conversations" and not just listen to the opinions of a few older community members.
"I think there has been a change in culture since this issue began, and I'm in favour of the groups joining so we have stronger representation.
"We need to move forward."
Ms Bannister said there were other issues that needed addressing, such as speeding cars and lack of parking, which could help address concerns about dangerous walkways and the need for paths.
But former SVCA member Michelle Gregory was more sceptical about a successful merger.
"The possibility of one group being absorbed by another is as likely as one native tribe gladly joining another and leaving behind its identity and set of beliefs and values," she said.
"All we want is to protect Somers, but everybody has to be on the same page."
Cr David Gill, who has been banned from voting in council on the footpath scheme because he represented the SVCA before he became a councillor, said "there is compromise in the air".
"It's not a closed matter yet, but it's good that the residents have a voice."
First published in the Southern Peninsula News – 14 March 2017