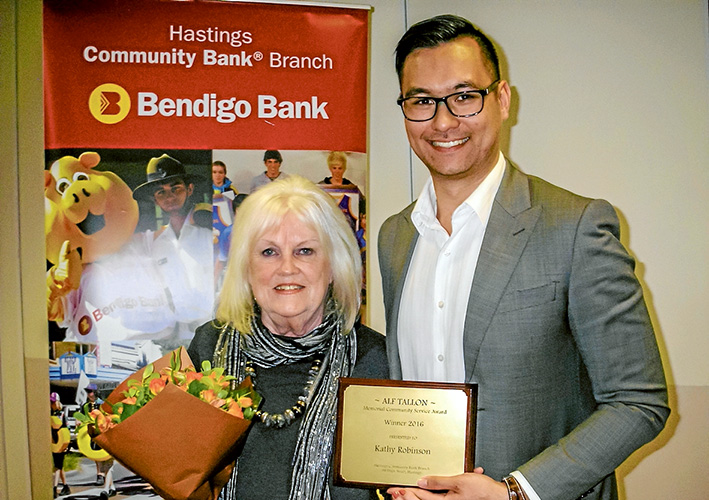 KATHY Robinson, of Hastings, is the recipient of this year's Alf Tallon community memorial award.
The award goes to someone who contributes their time and effort to their community. It is supported by the Bank of Bendigo.
Ms Robinson started volunteering 40 years ago as a driver for the Association for the Blind, while also advocating for people with disabilities and working for the Office of Public Advocacy.
After retiring, she continued to support her community as treasurer of the Probus club and Hastings U3A. She also volunteers at the Bays Aged Care, the Reading for Life program, Western Port Secondary College breakfast program, as well as assisting in various roles with her church and the Vinnies Hastings conference.
"Despite her busy life she always has time for family and friends," Hastings U3A president Dianne Ashton said.
Ms Robinson received a community award plaque from Dominic Tallon at a ceremony at the Hastings Hub recently. It entitled her to nominate a local organisation to receive $1000 – and she chose Hastings U3A.
The money will go towards subsidising Hastings U3A's 10th birthday and annual meeting on Tuesday 28 March.