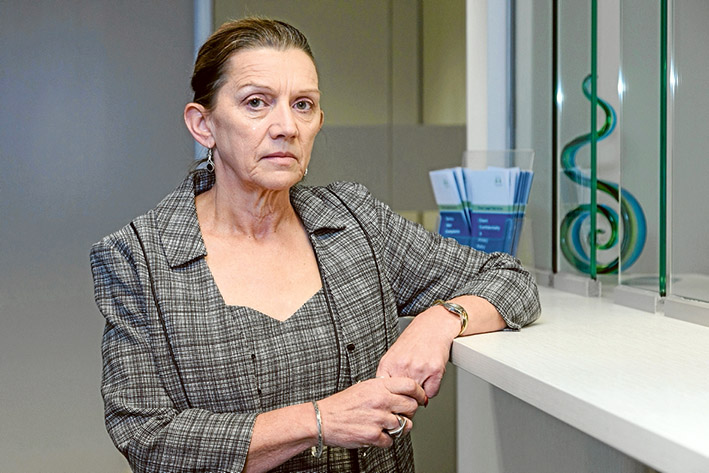 THE Frankston-based Peninsula Community Legal Centre has welcomed the support of high-profile domestic violence campaigner Rosie Batty in the fight to stop funding cuts that could cripple the service and the community.
The legal service has helped thousands of low-income clients to access free legal advice and representation every year since opening 40 years ago, with the majority of clients seeking help with family law and domestic violence-related matters.
The centre's chief executive officer Jackie Galloway said domestic violence was a "scourge" on the Frankston community, and free legal help for those affected was essential to keep them safe, housed and out of spiralling debt.
"We are very heartened to know that there is so much support to try to convince the federal government from cutting funds, as community legal centres play a vital role in supporting victims of domestic violence and getting legal aid to people who otherwise couldn't afford or access it," she said.
Ms Galloway said the more support there was, the more the centres could convince the government of the need for the services to help people and stop the problems spreading into the community.
Ms Batty, the 2015 Australian of the Year for her work campaigning against domestic violence, has started an online petition to stop the government from slashing funding to community legal centres around the country by 30 percent in July.
Ms Batty's son Luke was killed in a violent daylight attack by his father at a sports ground in Tyabb in 2014. Since then, she has become the public face in the fight to end domestic violence, tirelessly advocating for changes in police responses, the delivery of support services and government engagement.
Peninsula Community Legal Centre has provided legal advice to 7966 cash-strapped or vulnerable clients since opening 40 years ago, but fears for its future and is pleading for the government to reverse its decision and restore the funding.
The government announced last year it would slash funding by millions from 1 July to make up for budget shortfalls. The cuts, expected to be sustained through to 2019–20, will see community legal centres receive $31 million from estimated total federal government spending of $511.61 billion.
Another online petition by the Law Council of Australia also calls for the government to maintain the funding so that community legal centres can provide essential legal advice and representation to Australia's most vulnerable people.
President Fiona McLeod said the crisis in legal assistance funding had grown worse over two decades, but that the planned cuts to take effect would be particularly disastrous.
Ms Galloway said the Frankston service would be forced to turn people away if the cuts went ahead.
"The people that seek our help every week are most often suffering as a result of some sort of family dispute, and we see that domestic violence has ramifications that can affect housing, education, mental and physical health, and even debt levels.
"Our clients need help with a range of issues and without being able to access free assistance, thousands of people would suffer."
Federal Liberal Attorney General George Brandis has previously told The News the proposed cuts were the fault of the former Labor government, which had allocated the funding and set the expiry date of 30 June 2017.
Senator Brandis said the government is negotiating an $18.5 million agreement for legal aid commissions in each state and territory to establish family advocacy and support services in family law court registries, under a "third action plan" to relieve pressure across the legal assistance sector and help people affected by domestic violence.