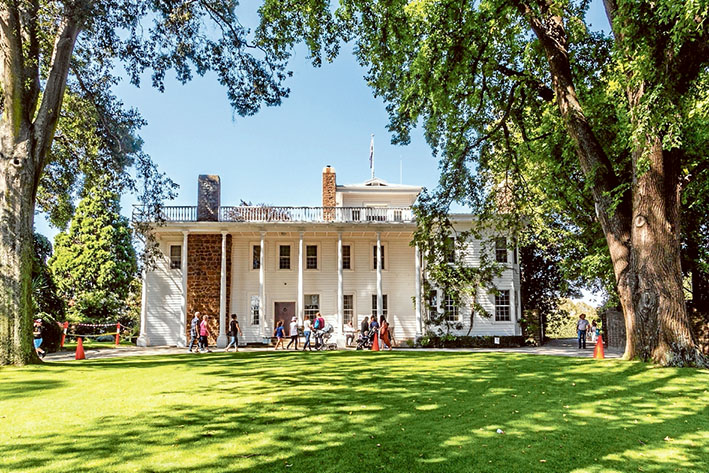 PLANS to subdivide part of Cruden Farm in Langwarrin for residential development would see more than 100 houses built ​on land near the former homestead of Dame Elisabeth Murdoch.
A planning application to subdivide a parcel of land within​ the 54-hectare estate has been received by Frankston Council in a first step to try to rezone land from its current Rural Conservation Zone status that prohibits residential development.
The application is for a parcel of land at Cruden Farm to be subdivided into 116 lots of between 600-800 square metres.
The bid to rezone the land will be controversial since state government approval will ultimately be needed to move the Urban Growth Boundary.
The minimum subdivision size in a Rural Conservation Zone is eight hectares.
Rural areas of environmental significance are zoned RCZ and landscape appropriate agriculture is allowed. Only one dwelling can be built in a RCZ.
Newspapers tycoon Keith Murdoch, father of News Corp founder Rupert Murdoch, bought Cruden Farm as a wedding present for Dame Elisabeth in 1928.
State Labor Planning Minister Richard Wynne would have to agree to a change to Melbourne's Urban Growth Boundary to allow any residential development at Cruden Farm to go ahead.
It emerged last week that a Brighton-based property developer, Hamish Macdonald, registered the business name 'Cruden Farm' in January this year ('Cruden Farm plan on way', The News 4/4/17) in the name of an entity UEG Pty Ltd.
Keith and Elisabeth Murdoch Trust chairman of trustees ​and Cruden Farm spokesman ​Ian Evans contacted The News to advise he "recently became aware that the business name Cruden Farm was registered to a private company, UEG Pty Ltd".
"Neither UEG Pty Ltd, or Mr Hamish Macdonald, is or ever has been connected with the Keith and Elisabeth Murdoch Trust, or with the Langwarrin property known as Cruden Farm," Mr Evans said in a statement.
"On 4 April 2017 UEG Pty Ltd transferred ownership of the business name Cruden Farm to the Keith and Elisabeth Murdoch Trust."
Calls to numbers associated to UEG Pty Ltd were not returned.
Mr Evans did not respond to questions about the residential subdivision plan before publication.
The Cruden Farm estate was transferred into the name of Cruden Custodian Limited in 2013 and its trustees include several grandchildren of Dame Elisabeth but not her multi-billionaire media mogul son, Rupert.
The Murdochs often gather at Cruden Farm for family events. News Corp's The Australian newspaper reported Rupert Murdoch and wife Jerry Hall joined "the Melbourne establishment" in February at the homestead to celebrate the birthday of the media magnate's brother-in-law, John Calvert-Jones.
Cruden Farm's gardens are sometimes open to the public and the estate hosts community and charity events at the behest of Dame Elisabeth, a renowned philanthropist, who died at the age of 103 in 2012.
It is understood that part of the estate would remain available for such events.
The planning application also includes a proposal to apply a Trust for Nature covenant to about five hectares of land covered in trees and plant life.