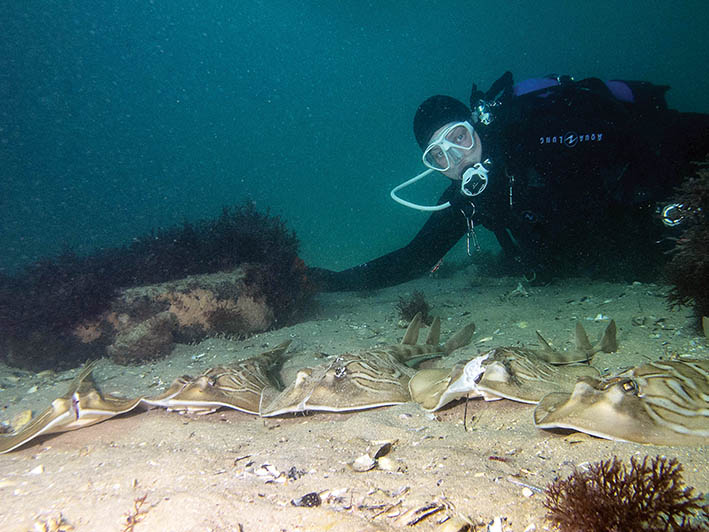 DIVERS are continuing to uncover acts of cruelty to fish caught from piers in Port Phillip and Western Port.
The killing of a "resident" smooth ray on Rye pier on 2 April resulted in a 25,000-signature online petition calling for a ban on the killing of rays in Port Phillip, including stingrays and banjo sharks.
The CEO of peak Victorian recreational fishing body VRFish, Michael Burgess, says his organisation "encourages all fishers to return unwanted rays to the water unharmed and comply with fishing regulations".
"We all need to work together to stamp out this unacceptable and illegal behaviour. Rays play an important role in maintaining healthy marine ecosystems and are like the vacuum cleaners of the ocean floor."
Images of the mutilated ray taken by scuba diver P T Hirschfield were reproduced by electronic and printed media, prompting outrage and highlighting the need for protection ("Cruel end for 'puppies' of the sea" The News 18/4/17).
Despite the reaction Ms Hirschfield was shocked to hear another five dead fiddler rays – commonly known as banjo sharks – had been found under Rye pier on Wednesday 3 May.
Each one appeared to have been killed by "a cranial split", Ms Hirschfield said.
She categorises the fish as "unwanted catch", which are killed to prevent them from "wasting bait".
"At least one of the animals was still alive after sustaining this injury, as caught on disturbing video by local scuba diving instructor Jane Bowman," Ms Hirschfield said.
"It is an offence against Fisheries Victoria 2009, Regulation 101 to not return fish to water without injury or damage.
"Divers who entered the water the following morning to euthanise the animal found it already dead, along with a fifth banjo that had been knifed in the head."
Ms Hirschfield, an organiser of the Melbourne-based Project Banjo Action Group, said the "slaughter of these rays was particularly brutal … but not an isolated event".
Representatives of the group have met with Fisheries Victoria executive director Travis Dowling and director of education and enforcement Ian Parks to discuss having signs on piers telling anglers fish protection laws, fines and "potential regulatory reforms".
"Testimonials and photographic evidence within the 700 strong ray advocacy group are evidence that banjos have been slaughtered as unwanted catch regularly for many years across the piers of Port Phillip and Western Port, including but not limited to Portsea, Blairgowrie, Rye and Flinders.
"This goes beyond the illegal slaughter of unwanted catch. Often it's a matter of animal cruelty. Increasingly we're finding rays that are thrown back in the water, cut in half, mutilated and maimed but still alive."
Injuries sustained by the rays included having their mouths torn out to retrieve fishing hooks.
"Last week one diver filmed a ray that had been paralysed by a knife wound, then thrown back alive. Three days later another diver filmed the same ray still alive and had to put it out of its misery."
Ms Hirschfield said it was not uncommon for divers to see between four and six dead rays at the fishing end of the piers, with one diver reporting 18 dead rays as well as a less common eagle ray.
She said the killing of rays in Hamelin Bay, Western Australia, was banned in 2015 "when a public outcry erupted after a much-loved resident smooth ray was killed before horrified onlookers".
Mr Burgess, of VRFish said illegal fishing activities, including the deliberate harming of non-target species such as rays, toadfish and native sea stars, should be reported to Fisheries Victoria on 13 3474 (13FISH).
First published in the Southern Peninsula News – 16 May 2017