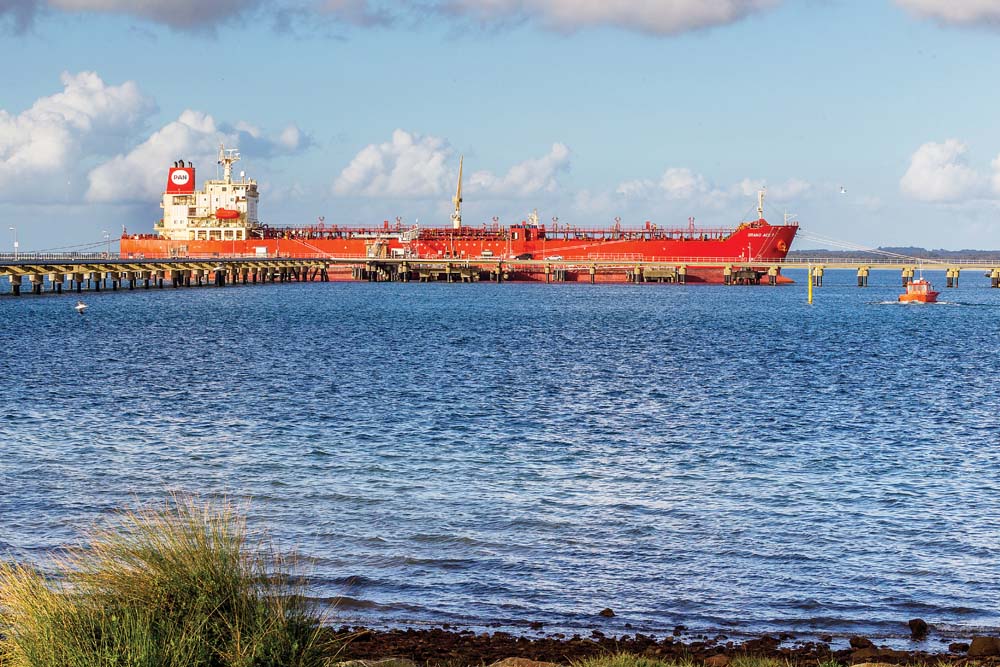 ENERGY supplier AGL confirmed last week that it wants to have a floating gas import terminal at Crib Point.
The company says the Western Port site will "increase energy security and supply for customers in south eastern Australia".
If given the go ahead by the state government, AGL says it will "invest roughly $250 million" and begin construction in 2019 with a view to bringing the terminal online within the following two years.
The government issued a statement on Thursday saying it "welcomed AGL's decision … [and is] working closely with AGL to ensure approvals processes are streamlined to avoid unnecessary delays".
It said the project would create 40 permanent jobs "and many more during the construction phase".
The floating terminal plan also fits with the government's decision not to back a container terminal at Hastings – it favours Bay West, north of Geelong in Port Phillip – but to encourage the Port of Hastings to be used as a "bulk port".
Hastings MP Liberal Neale Burgess warned on Monday that AGL's proposal closely follows "a push to locate a coal-to-hydrogen industry onto the shores of Western Port at Hastings" ("Secret deal for toxic plan – MP" The News 17/1/17).
"Even in its trial stage this project [proposed by Kawasaki Heavy Industries] would see a 1.5 kilometre long facility built on the shores of Western Port and coal trucks [around the clock]," Mr Burgess said.
"There is much the Andrews government is not saying about this [gas terminal] proposal, including the fact that AGL is also one of the partners attempting to push through a hydrogen-to-coal conversion proposal at Hastings. This would once again see our area being treated as a toxic dumping ground for the state Labor government."
AGL's wholesale markets executive general manager Richard Wrightson said Crib Point is "best placed to serve Victoria … as well as take advantage of the existing pipeline network, industrial port facility …".
"This doesn't signal the end of the feasibility studies for the proposed site but now accelerates the process," Mr Wrightson said.
"We look forward to ongoing consultation with the local community to answer their questions and proceed towards a formal application to the Victorian government.
"This project will enable access to the world market for gas, injecting some much-needed competition into the Australian market and help ease the tight gas supply."
Mr Wrightson said AGL is looking at "how best to modernise and decarbonise the energy system … as Australia transitions to a carbon constrained future".
"Our strong balance sheet allows us to take a long-term view and invest our profits into renewable energy and strategic projects such as the gas import jetty and pipeline which will help underpin a more secure energy supply for Australia and has the potential, if required, to supply all of Victoria's household and business customer gas needs," he said.
"As the largest generator of electricity in the country, we're working hard to deliver secure, reliable and affordable energy and increase competition in the east Australian gas market for domestic and industrial customers."
AGL's decision to develop Crib Point comes as it announced a sharp turnaround in profits for the year to 30 June, with a net profit of $539 compared with a $408 million loss last year.
AGL has predicted an underlying profit of $940 million-$1.04 billion in the coming year.
As previously reported in The News, ("Western Port suitable for gas ships") AGL's plan could see gas tankers of up to 290 metres long gas being used to bring liquefied natural gas (LNG) to the floating terminal at Crib Point.
Former Port of Hastings harbourmaster Captain Dick Cox said ship to ship transfers had previously been conducted safely at Crib Point and there may be no need for having fire tugs "on immediate availability … providing there is adequate fire control systems available on the jetty to international standard".
Western Port was one of three sites being investigated by AGL for its import terminal for LNG from Australia and overseas.
The proposal to import LNG has highlighted government tax policies which make it cheaper for gas to be imported, even though Australia is one of the world's two largest exporters.
"The fact remains that Australia is exporting two-thirds of its gas overseas. [Prime Minister] Malcolm Turnbull needs to put a cap on exports to provide immediate relief on prices," the Premier Daniel Andrews said on Thursday.
Capt Cox said the gas tankers were one of "the safest and cleanest types of ships in the world".
"Their fuel is the boil off from the cargo – [which means] no risk of damage to mangroves or seagrass from oil spills – which is kept liquid at minus 160 degrees Celsius – it has to be warmed before it can be put into the local grid which is the job of the permanently moored vessel, which, hopefully will be tied up at Crib Point No.2 Jetty," he said.