SOCCER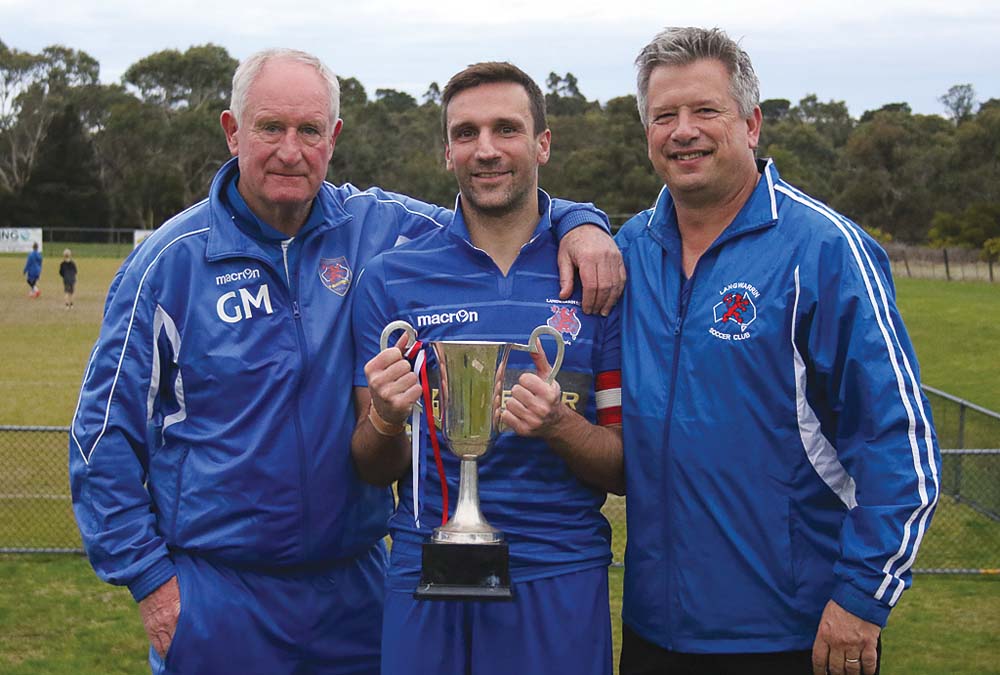 By Craig MacKenzie
LANGWARRIN clinched the State 1 South-East championship with a 3-1 win over Clifton Hill at Lawton Park on Saturday.
It was an historic moment as Langy became the first local club to win the right to compete in Victoria's elite National Premier League competition.
Langy started the day two points clear of title challenger Mornington but Langy's win and Mornington's 0-0 draw at home to Malvern City clinched Gus Macleod's first title triumph since 2004 and ended Mornington's chances of an unprecedented State 1 threepeat.
Nerves were eased at Lawton Park when Alex Metcalfe's shot was deflected past keeper Chris Davis by a Clifton Hill defender in the 63rd minute.
But Langy fans were back on tenterhooks a minute later when Andrew Goff was allowed to stroll through the Langy defence and hit a low shot from the left of the area past diving Langy keeper Robbie Acs for the equaliser.
Langy star Connor Belger was brought down inside the area in the 73rd minute and Metcalfe converted the resultant penalty and three minutes into time added Belger's low left-foot strike from the edge of the area sealed the issue.
Langy players, coaching staff and supporters mingled together in the centre of the pitch until the result came through from the Mornington match and once it did they celebrated in style.
It was a fitting way for veteran goalscorer Caleb Nicholes to play his last home match having announced his retirement some time ago and no doubt he'll figure prominently in next weekend's final league game of the season.
Mornington's failure to put Malvern keeper Jamie Greygoose under the cosh was to prove costly.
Home team keeper Kris McEvoy charged off his line in the 8th minute but didn't win the ball and ex-Mornington player Brad Blumenthal couldn't control his shot towards the unguarded goal.
In the 58th minute Mornington winger Keegan Ziada put Sammy Orritt through but Orritt blasted his shot over the bar and in the 68th minute an ineffective punch from McEvoy fell to the feet of Adam McKeon who shot wide.
Malvern defender Ryan Ratcliffe was forced to slide down and clear following a Ziada cross from the left in the 71st minute and Ken Kilmurray's cross from the right in the 84th minute was headed high and wide by Blumenthal at the back post.
In the 91st minute Wayne Gordon swung over a corner from the left as Mornington players queued up at the back post only for substitute Nathan Smith to sky his first-time volley.
When referee Ioannis Zisis blew for full-time Mornington gaffer Adam Jamieson sank to his haunches knowing that his arch rival had claimed the ultimate prize.
Peninsula Strikers have dug a huge hole for themselves after Sunday's 4-0 loss at home against North Caulfield and are now staring relegation from State 2 South-East squarely in the face.
The damage was done in the second half as North Caulfield will o' the wisp Yonnie Lipshatz ran amok with goals in the 61st and 88th minutes and an assist for Oran Harel's goal in the 79th minute.
Benji Schneider was North Caulfield's other scorer.
Seaford's State 2 South-East season of misery continued with a 7-0 loss at home to Berwick City on Saturday while Frankston Pines went down 2-1 away to Heatherton United on Saturday night.
Skye United is set for a State 3 South-East promotion showdown against Brandon Park after a comfortable 3-0 away win over Collingwood City last weekend.
Brandon Park defeated Brighton 3-2 but Skye clings on to second spot with a plus 32 goal difference over Brandon Park's plus 31 goal difference.
Skye winger Jason Nowakowski was brought down by Collingwood custodian David Herman in the 5th minute and Skye captain Mark O'Connor converted from the spot to make it 1-0.
In the 10th minute a bizarre altercation between an assistant referee and the Collingwood coach in the technical area resulted in substitute Bailey Reid being sent off from the bench.
It took until the 42nd minute for Skye to strike again as Nowakowski sent through striker Daniel Attard who made no mistake to make it 2-0.
From the restart O'Connor won possession and his deflected through ball found Attard one-on-one again and the big striker curled his finish around Collingwood keeper David Herman to make it 3-0.
From that point on the result was never in doubt and Skye keeper Jonathon Crook spectacularly tipped over a long range drive late in the contest which was destined for the top corner, a save that may prove crucial to the season's outcome.
Rosebud Heart lost 2-0 away to Harrisfield Hurricanes on Saturday but a bigger loss was the announcement from senior coach Scott Morrison that he would be stepping down at season's end.
"It's been an amazing two years at the Heart. It is a fantastic club with fantastic people and we achieved unbelievable things last year then reached our goal this year of staying up," said Morrison.
"We have had seven players out from the start of the season, six of them with season-ending injuries and I firmly believe if they had stayed healthy we would've been in the top three.
"The reason for stepping down was mostly based on family as the time that goes into coaching is hours upon hours and in the last two years my son has gone from knee height to hip height and I feel that it just flew past me.
"You never say never when it comes to next season but a rest first and some family time and then we'll see what happens."
Six minutes into Saturday's game Harrisfield took the lead after a loose ball was hit sweetly from just over 20 metres by Nicholas Corsini straight into the top corner.
After that it was predominantly one-way traffic with gun scorer Dave Greening unusually failing to convert three clear-cut chances.
Then a long ball by Harrisfield in the 34th minute wasn't properly cleared by Callum Richardson allowing a Harrisfield player to break through into a one-on-one with Heart keeper Sean Skelly before passing to Antonio Bruno who finished into a open net.
Bruno was clearly offside but the assistant referee failed to flag and the goal stood.
Heart continued to dominate possession in the second half but had no joy in front of goal.
Monash Uni easily accounted for visitor Baxter 4-1 in their State 4 South fixture on Saturday.
There was little to report from a Baxter perspective other than a left hook that Conor McGregor would have been proud of which escaped the notice of the match officials.
Alan Lipsett scored for Baxter.
Somerville Eagles went down 5-0 in their State 5 South away clash with Rowville Eagles last weekend while Southern United came away from Olympic Village on Saturday with a 2-1 win over Heidelberg United in their NPLW fixture.
Rita Mankowska gave the home team a 15th minute lead but Southern's Mikhaila Bowden equalised with a fine individual effort six minutes later.
The winner came in the 81st minute via an excellent interpassing move involving Courtney Heuston, Elisabeth Rovers and Jessica Au with Southern captain Candy Ferreyra-Bas finishing in style with a firm strike into the roof of the net.
Earlier in the day Southern's championship winning under-13s tuned up for their looming finals campaign with a 2-1 win against Heidelberg.
Candy Kilderry and league top scorer Rhys McKenna scored in the second half to put Southern in control while Heidelberg's response came from the penalty spot through Olivia Triantafillidis.
Southern's under-15s drew 1-1 with Mackenzie Hicks getting Southern's equaliser after Rosie Thyer had given Heidelberg a half-time lead while the under-18s went down 1-0 to Heidelberg whose winner came from Chloe Romero.
This weekend's games:
THURSDAY 8.30pm: North Caulfield v Frankston Pines (Knox Regional Centre).
SATURDAY 3pm: Bayside Utd v Southern Utd (Kingston Heath Soccer Complex, U13s 10am, U15s 11.30am, U18s 1pm), Malvern City v Langwarrin (Kooyong Park), Morwell Pegasus v Mornington (Ronald Reserve), Mazenod Utd v Peninsula Strikers (Mazenod College), Beaumaris v Seaford Utd (Beaumaris Reserve), Skye Utd v Brandon Park (Skye Recreation Reserve), Baxter v Endeavour Utd (Baxter Park), Rosebud Heart v Monash Uni (Truemans Road Reserve), Somerville Eagles v Lyndale Utd (Barber Reserve).