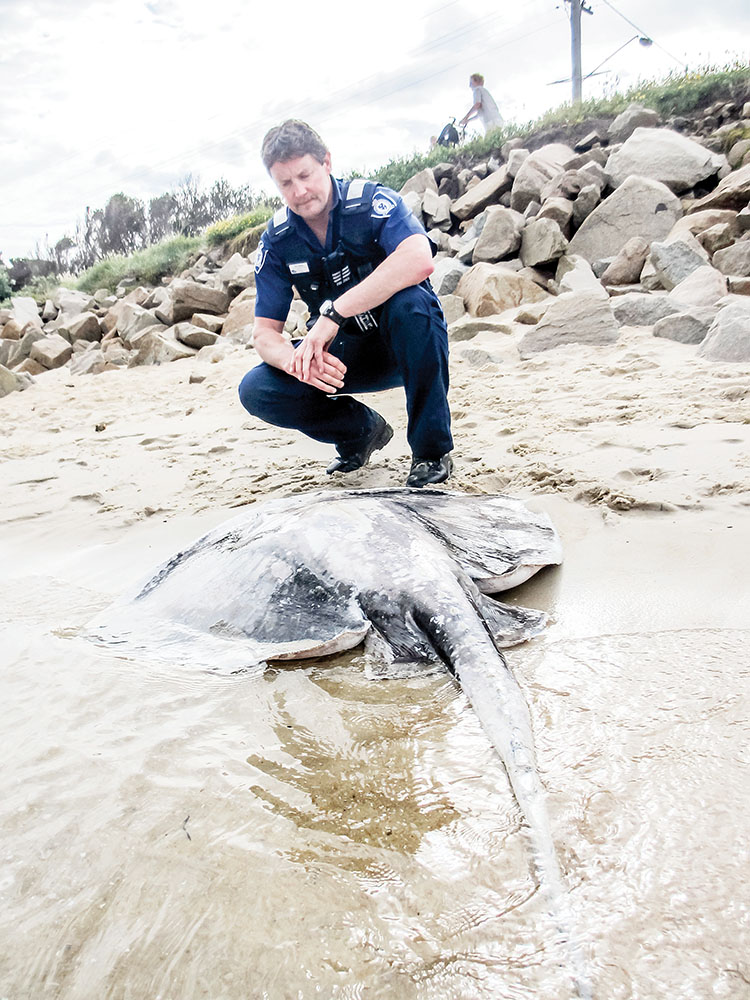 EARLY morning walkers at Safety Beach on Friday were horrified and saddened to see the white underbelly of a large dead stingray lying in the shallows.
Several passersby thought it was one they had often admired from the beach.
Regulations to protect stingrays, skates and guitar fish came into force on 7 November making it illegal to catch the fish from or within 400 metres of any man made structure.
Fisheries officer Rod Barber, who on Friday was checking boats at the Safety Beach launching ramp, found a round wound behind the dead stingray's head.
"If they're not going to eat the ray it should be returned unharmed to the water," Mr Barber said. "This one looks like it's been stabbed and thrown back."
He said the new regulations were also intended to increase people's respect for the fish "as everything has its place in the environment".
The community group Project Banjo which earlier this year launched a public campaign to protect fish commonly identified as rays or banjo sharks, sees the new regulations as "a huge step forward".
Members of the group photographed parts of the seabed around piers on the Mornington Peninsula littered with the corpses of dead rays, often mutilated by knife wounds.
On 1 November the Victorian Fisheries Authority (VFA) announced a ban on the taking of rays more than 1.5 metres across; reduced the bag limit for all skates, guitar fish and all other rays from five to one a day; made it mandatory for the entire fish to be brought back to land so its size could be checked; and banned rays, skates and guitar fish being taken from or within 400 metres of any man made structure.
The regulations were introduced in the face of a media campaign which attracted international attention and included a 33,000-signature petition.
Project Banjo predicted the changes "are set to lead the way both nationally and internationally in recognising the need for better treatment of these marine animals that play a vital role in the heath of marine ecosystems" ("Bay rays win protection" The News 7/11/17).
Project Banjo coordinator P T Hirschfield, a keen scuba diver and underwater photographer who lives at Safety Beach, said the new regulations "are a massive win in direct response to the senseless slaughter of rays, in particular smooth rays and fiddler rays" publicised by the group.
She said the VFA's "comprehensive solutions package" included the new rules being added to the Victorian Recreational Fishing Guide and signs on piers and jetties around Port Phillip.
"Rays are generally not considered to be desirable catch, and the Project Banjo action group has collated significant photograph and video evidence of unwanted rays that have been systematically been either slaughtered or mutilated and returned live into the water," Ms Hirschfield said.
"Too often, the smaller rays have been considered as pests that compete for fish or who repeatedly take bait.
"Some anglers have killed them to avoid the inconvenience of catching the same ray twice. Many have been mutilated to retrieve inexpensive fishing hooks. Others have been dealt knife wounds and deep cranial splits and had flaps removed or been cut in half while still alive before being discarded into the water, which is blatant animal cruelty."
Ms Hirschfield said stingrays had been portrayed as "malicious man-killers" following the death of Steve Irwin while filming a documentary in 2006.
She said the death of the zookeeper, conservationist and television personality was just the third ray-related death in Australian history.
"In reality, rays do not attack humans but have been known to act in self-defence when they feel themselves to be in any way threatened," Ms Hirschfield said.
"Typically, these rays are much loved by locals and tourists alike in the waterways and around the man-made structures they frequent."
The deliberate harming of non-target fish species – including rays, toadfish and native sea stars – can be reported to Fisheries Victoria on 13 3474 (13FISH).
First published in the Southern Peninsula News – 28 November 2017