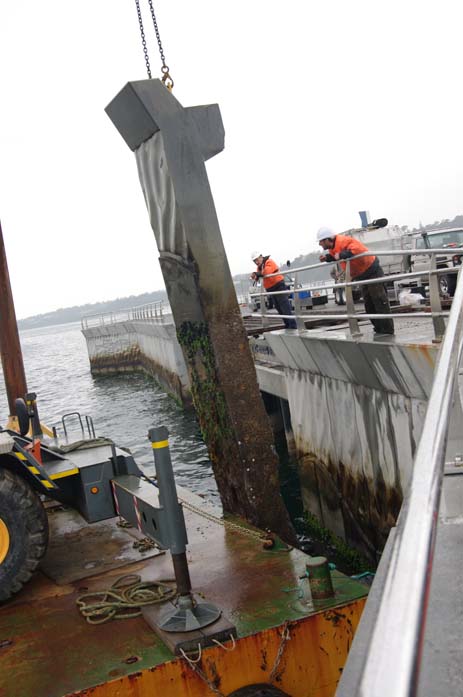 A REDESIGNED wave protection system along the seaward side of Mornington pier will – hopefully, this time – better protect it from storm damage.
Workmen were last week drilling 120 holes for supports and using a crane to attach a steel frame, while divers were down below cleaning up the seabed and removing previously damaged steel frames and debris.
Parks Victoria engineers said the original waler – a type of brace that attaches the wave screens to the pier – would be replaced with a larger, stronger version, with the wave screens bolted through the panels for additional strength.
A new, secondary waler will provide extra reinforcement. Twice the number of top connections will be installed and the bolts will be larger and stronger.
If things run to schedule the wave screen panels will be fixed in place by the end of the month and the full wave protection system completed by June "subject to favourable weather and conditions".
The original wave screens were damaged by major storms in July and October 2016, prompting engineers to rethink the design of the system to better withstand the elements. Violent storms in previous years inflicted similar damage.
Some sections of the pier will be closed off during the works but the remainder will be kept open.
Parks Victoria acting regional director for Melbourne Marine and Maritime Graeme Davis said the timing of the works would avoid peak visitor periods and allow construction during milder weather conditions before winter's onslaught.
"The wave protection system has been redesigned and strengthened to ensure the community can
have full confidence the wave screens will withstand future storm events," he said.
"There will be some restricted access to the pier for public safety, however, we are expecting the disruptions will mostly be on the ocean side of the pier.
"Parks Victoria would like to thank the community for their patience while the repair works are carried out."