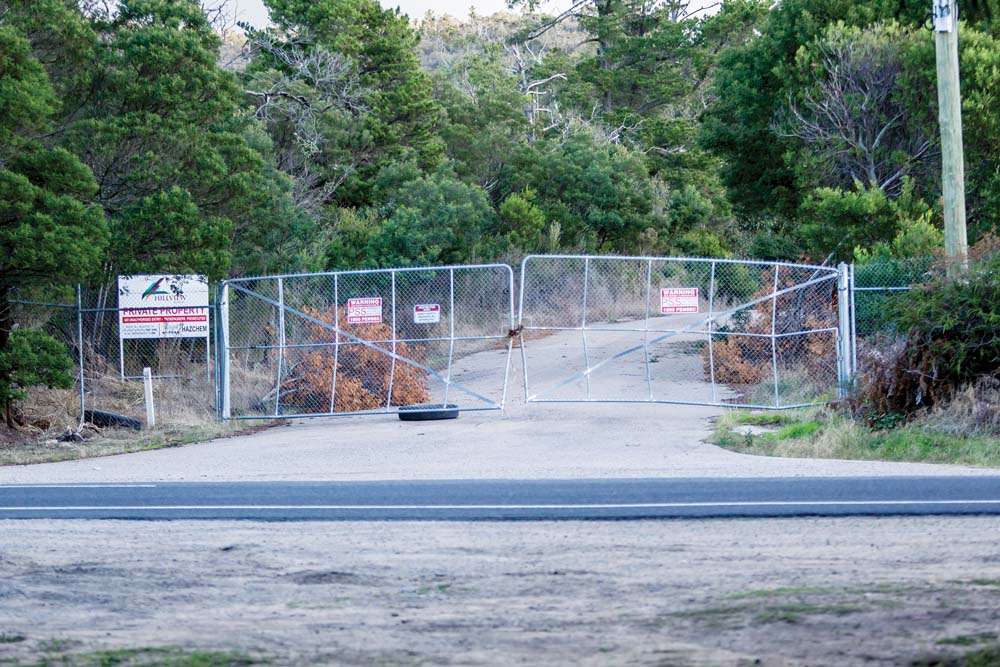 HILLVIEW Quarries has restarted its efforts to reopen the old Pioneer quarry in Boundary Road, Dromana.
It has asked the state Planning Minister Richard Wynne to give the go ahead for an environmental effects statement (EES) into the proposal as well as "doorknocking" neighbouring property owners.
Hillview CEO Paul Nitas said on Thursday that the company's existing quarry, in Hillview Quarry Drive, was likely to run out of rock within seven or eight years if current extraction levels (750,000 tonnes) were maintained.
He estimates the former Pioneer quarry, which Hillview wants to reopen, could supply one million tonnes of rock for 70 years.
Mornington Peninsula Shire is one of the company's biggest customers.
Hillview Quarries is part of the RE Ross Trust which since 1970 has donated $110 million – including $10m on the Mornington Peninsula – to charities, education and environmental projects across Victoria, focussing on children at risk, education, arts and culture and nature.
The latest bid to reopen the former Pioneer quarry follows a determination by the Victorian Civil Administrative Tribunal (VCAT) in April 2017 that the quarry's planning permit had expired ("VCAT 'no' to quarry permit" The News 9/5/17).
At that time community groups hailed the decision as a victory, although one leading campaigner cautioned, "we've won a battle, but not the war".
"We're over the moon and I'd love to think that was the end, but I think it will go on," Dr Mark Fancett, of the Sheepwash Creek Catchment Landcare group said.
Five years ago the protesters successfully campaigned against the quarry being used as a rubbish tip.
"Reopening this quarry site is important for the future of Hillview Quarries and the RE Ross Trust," Mr Nitas said in a statement last week.
"Unlike similar businesses, we are part of a philanthropic trust which seeks to do good, tread gently and be open and transparent; and we want to give the community every opportunity to have their say throughout this process, which an EES would allow."
Mr Nitas described the EES as "a rigorous series of investigations, which includes a comprehensive consultation requirement, giving the community the chance to voice any concerns and explore solutions.
An EES would give government decision makers "the basis to decide whether a project should proceed".
Mr Nitas said Hillview was "voluntarily engaging in an extensive state government process in a bid to win community backing to reopen [the quarry]".
Quarrying at Boundary Road would allow Hillview to operate "well into this century, employing about 35 people and supporting other local businesses".
"While operations will continue at Hillview, the trustees have a duty to ensure the longevity of the trust, set up by Roy Everard Ross almost 50 years ago to help his fellow Victorians," Mr Nitas said.
"This means making the best use of the assets that it owns, including the Boundary Road site."
Victorian-born businessman and World War One soldier Roy Everard Ross founded Hillview Quarries in 1968, incorporating it into the RE Ross Trust in 1970, as part of his will.
Hillview's request for an EES is being made at the same time that the state Labor government has joined with South Gippsland Shire and Wyndham City councils to undertake geoscientific investigations, to identify reserves of rock, gravel and sand.
Resources Minister Tim Pallas last week said the resources were needed "to build the infrastructure of today and tomorrow".
Information gathered over the next 12 to 18 months would be assessed "to determine the best way to secure extractive resources and quarry operations, while maximising liveability with local neighbourhoods".
"Because rock, gravel and sand weigh tonnes, it's critical these extracted raw materials come from places near transport routes to building sites, to keep the construction costs down," Mr Pallas said.