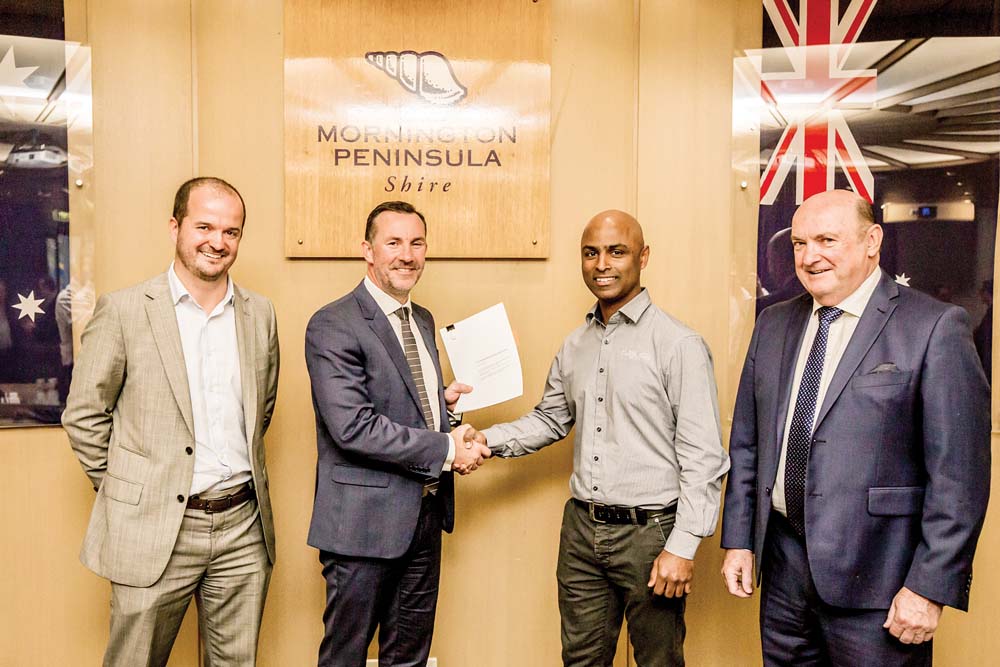 THE days of local councils having responsibility only for roads, rates and rubbish are long gone.
Last week, Mornington Peninsula Shire joined with Hussey and Co and the Sustainable Melbourne Fund to finance the installation of a 505 kilowatt solar system at the salad growers' farm at Somerville.
The $935,000 system will save $86,000 or 754 tonnes C02 equivalent a year, which is equal to taking 161 cars off the road for a year.
The money comes through an environmental upgrade agreement administered by the fund and the shire.
The solar project, assisted by Environmental Upgrade Finance, is the largest on the peninsula and takes the total wattage of power installed here using this type of finance to 887kW.
"This funding provides a great opportunity for local business owners to reduce their energy, water and waste usage while also resulting in significant economic savings," The mayor Cr Bryan Payne said.
"Since January last year, nine agreements have been signed in the shire for Environmental Upgrade Finance to invest in solar power and energy efficiency upgrades."
Hussey and Co general manager Lance Petersen said the initial driver for the investment in solar was to reduce electricity costs. "We also feel that investment in renewables is the right thing to do given our changing climate," he said.
"Being in a farming business we get impacted first hand by climate change. As a result, we're passionate about supporting any initiatives to sustain our future by reducing our carbon footprint and investing in renewable energy sources.
"Since the last 99kW solar system was installed through EUF last year, our business has realised a $14,000 reduction in power bills. We expect this new solar installation of 505 kW to multiply these savings five-fold.
"The solar power also ensures us security of electricity supply. During peak use periods or during storm events, [we] frequently suffered black-outs and had to invest significant funds for back-up power.
"[The fund] has been a great way for our business to simply access finance with a favourable rate and term.  The loan, over a 10-year period, can be cash-flow positive from day one.
"[It] also provides fixed electricity costs and the ability to sell the energy using Large Scale Generation Certificates providing around $5000 back to the business each month."
Sustainable Melbourne Fund CEO Scott Bocskay said the upgrade finance could be over a term as long as 15 years. Businesses could unlock capital while still maintaining positive cash flows.
He said the fund could provide capital to help businesses manage operating costs or other projects which reduce their utility bills. "Accessing capital through EUF is attractive and simple for businesses on the peninsula," he said.
Watson Ward's Cr Julie Morris said the shire commended Hussey and Co. for their investment and commitment to renewable energy. "We encourage other businesses to take advantage of this finance opportunity and reap the economic and environmental benefits."
Other businesses to sign EUAs on the Mornington Peninsula are Rye Hotel, One Four Nelson, Paringa Estate winery, Boneo Maze, Flinders General Store, Crittenden Estate and Sorrento Beach House.