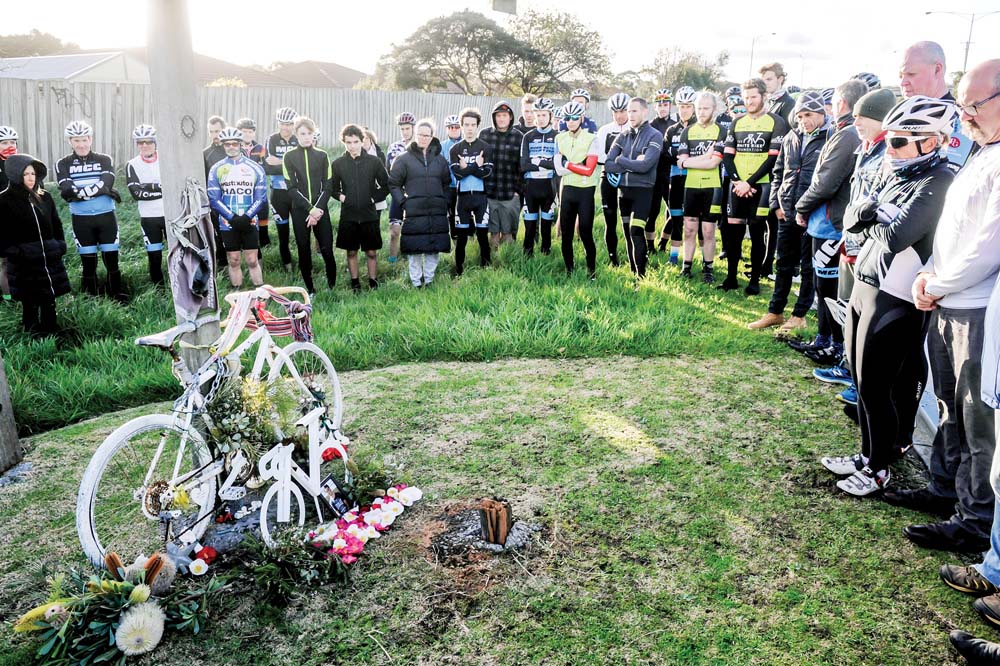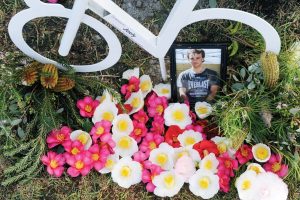 ABOUT 100 cyclists rode in the name of road safety on Saturday 16 June when The White Bike Foundation and Mornington Cycling Club staged their third memorial ride for Joel Hawkins.
Their destination was the ghost bike honouring the memory of the Mt Martha 17-year-old who was struck and killed on the Nepean Highway at Ponderosa Place, Dromana, 17 June 2015.
The annual memorial ride took place just days after five road users died on Victorian roads, including a 61-year-old cyclist who was struck by a truck at Moorooduc, about 16 kilometres from the site of Hawkins' death and almost three years to the day later.
"Our energy and thoughts go out to all those affected by the recent crashes – and all road fatalities – especially the family and loved ones of those directly involved," The White Bike Foundation director Chris Savage said.
"We launched the foundation in March to educate and protect all road sharers and prevent tragic incidents – like these – occurring on Australian roads."
Mr Savage said the media had focused on the "so-called war between motorists and cyclists".
"There is no war. We are all people, we all bleed and we all just want to get home safely," he said.
The foundation launched its road safety awareness campaign on 17 March and then delivered a message to Flinders MP Greg Hunt MP at Parliament House, Canberra: "There are 86,400 seconds in one day. Pause and take two to make the safest decision for all road users. #think2."
Mr Savage said the foundation aimed to educate and protect all road users by encouraging respect, mindfulness and patience, and to work with schools and like-minded organisations to drive cultural and legislative change.
Its first ambassador, Robbie Peime, returned from his maiden Ironman triathlon in Cairns to join the Saturday ride on a handcycle.
Still-grieving parents Graeme and Trudi Lowndes came from Bendigo and participate in the Hawkins memorial ride. Their son Jason was killed on a training ride near Bendigo in December.
"Accepting the loss of Joel doesn't get any easier with time, but The White Bike Foundation is working extremely hard to make a major change. Hopefully, that will mean less families have to go through the pain we face every day," Joel's father Leslie Hawkins said.
Joel's mother, Liza Hawkins: "We are so grateful to everybody who continues to keep the memory of our beautiful son alive.
"The work that the foundation does helps to bring us strength in the darkest of times. Hopefully, it does the same for Graeme and Trudi Lowndes, and for all those families suffering the anguish of losing a loved one too early due to the irresponsible actions of another person on the road."
Mornington Cycling Club president Bruce Trew: "Joel was a fantastic lad and a well-respected and extremely talented member of the MCC. Safety was always a priority and Joel was pedantic with lights, fluorescent clothing and keeping to cycle lanes where possible. He took all the precautions he could three years ago, but it wasn't enough."
First published in the Southern Peninsula News – 26 June 2018