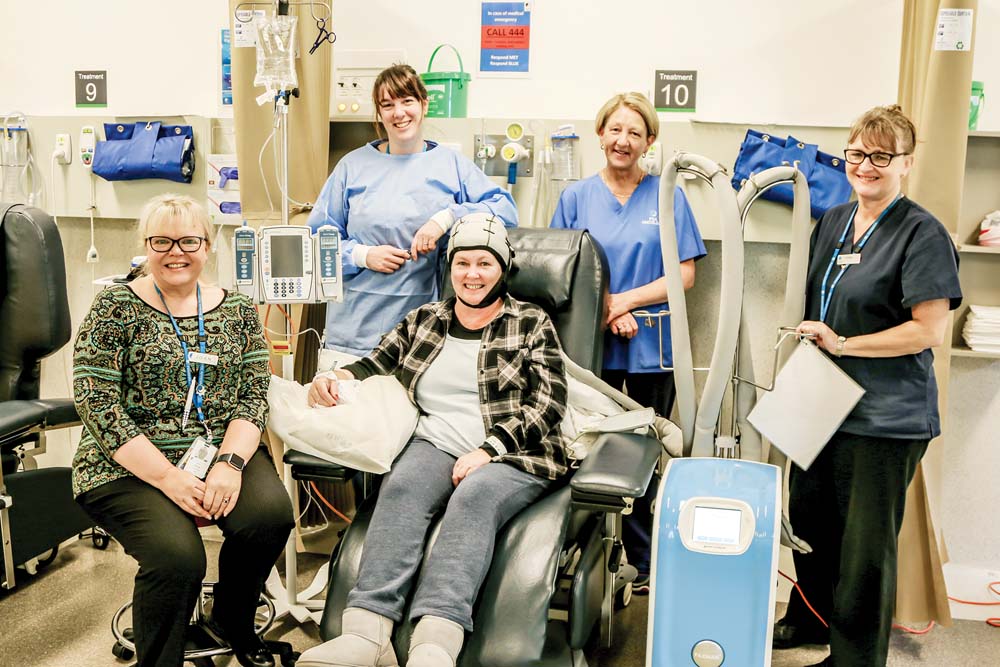 A NEW treatment for capping hair loss during chemotherapy for cancer is being rolled out at Frankston Hospital.
Scalp cooling chills the head and reduces the level of chemotherapy drugs reaching hair follicles to cut down on hair loss.
Crib Point mother-of-three Angela Fox this month became the first patient to have scalp cooling.
"It's a marvellous opportunity to have all of this technology in a public hospital, which basically helps you keep your dignity while you're having all of this treatment done," she said.
"Hair is fairly important – if you've still got your hair a lot of people don't realise what you're going through and that's a good thing."
Chemotherapy day unit nurse manager Joan Thomas said scalp cooling will help peninsula cancer patients.
"Losing your hair can be quite traumatic. Stopping this from happening can help the mental health and well-being of patients as it helps them continue to look and feel like their usual self."
Ms Fox was diagnosed with breast cancer after a routine mammogram in March.
"The tumour was very, very small – they were lucky to find it actually," she said.
"Within four weeks I was having surgery at Frankston Hospital to remove the tumour and some lymph nodes from my arm."
The Crib Point resident, also a grandmother-of-two, will have four more chemotherapy sessions while wearing the cooling cap.
"It feels very strange and definitely cold – it feels like when you jump in the water and there are all these bubbles," Ms Fox said.
"It saves me losing my hair though, so I don't mind what it feels like."
Up to four patients at any time will be able to have cap cooling during treatments thanks to a grant from Perpetual Trustees on behalf of RP medical Fund, Rowe Family Foundation and The John Robertson Grigor & Mrs Eve McKenzie Bequest.
More help can be provided for cancer patients by supporting Take a Break For Cancer fundraisers.
See peninsulahealth.org.au/takeabreak or call Peninsula Health on 9784 7777 for more information.