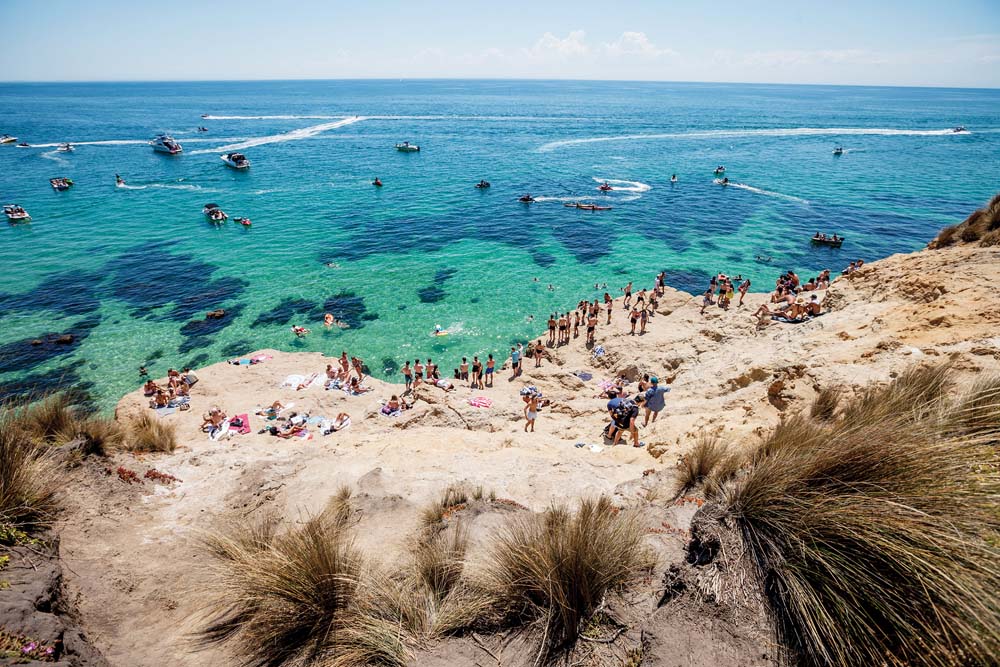 Mornington Peninsula Shire has admitted it needs state government "co-operation" to carry out its unilateral decision to fence off The Pillars cliff jumping site at Mt Martha and introduce a 200-metre no go zone for watercraft.
The government and Aboriginal Victoria last year ruled a fence out, but the mayor Cr Bryan Payne last week said the council's 9 October decision was needed "to get some meaningful discussion and action underway".
The boating ban had been included in council's latest decision "as part of the strategy to limit increased dangerous activity at The Pillars" ("Fencing The Pillars for safety" The News 16/10/18).
"This is essential as it is a health and safety measure."
Cr Payne said a water exclusion zone near The Pillars had been discussed last week with the Water Police, the agency which would be responsible for enforcing the ban.
"This is now on the agenda to be raised formally with both the government and Parks Victoria, who is the responsible authority," he said.
"The council's move to fence The Pillars is a response to public safety, legal advice and concern for local residents as well as visitors. It will require co-operation from the state government and its responsible authorities to be successful."
With a state election on Saturday 24 November, Cr Payne said he was "confident that all political parties have a strong sense of importance related to public safety and the council looks forward to working with them to resolve the issue in the interest of the local and wider community as quickly as possible".
However, Cr Payne has ruled out bans on other parts of the cliff area which extends from Mt Martha to safety Beach.
"The Pillars is a unique situation where people are risking their lives and injuries by jumping from the cliffs; this is different to fishermen and scuba divers going about their normal activity. Everyone around water needs to be aware of safety issues"
"The council has not been made aware of any issues related to fishermen or scuba divers."
The Victoria Police website says the Water Police "has the primary role of coordinating all marine incidents involving recreational vessels, yachts, fishing vessels and commercial vessels in port.
"These incidents often involve overdue vessels, flare sightings, broken down boats, missing divers, injured crew members and distress calls."
A public meeting to discuss The Pillars will be held 5.30pm–6.30pm Thursday 1 November at the Mornington Peninsula Shire offices, Queen Street, Mornington.