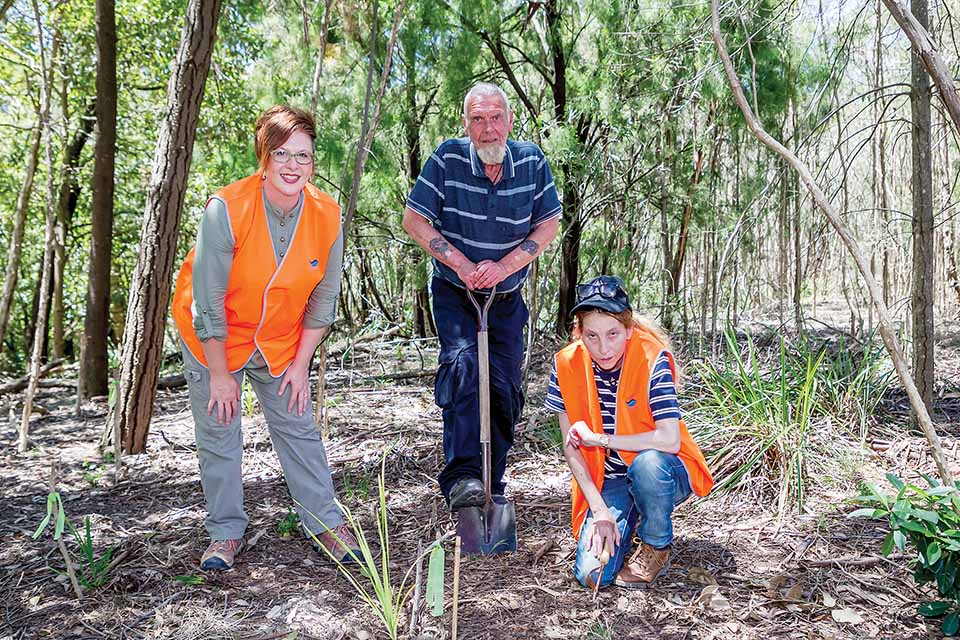 AN impenetrable thicket of weeds and scrub at Hastings that has been inhospitable to wildlife and a setting for antisocial behaviour is having a make-over.
It's all part of a collaboration between a team of work skills participants and Advance Community College.
Together, they have breathed new life into the wasteland adjacent to the Hastings Community Hub.
Over the course of the year participants in a federal government Work for the Dole scheme have set about regenerating the area and transforming it into open woodland with paths and secure habitats for plants and wildlife.
Invasive pittosporum and ivy have been cleared and replaced with more than 200 indigenous plants supplied by the college's Mornington-based plant nursery.
Participants built and installed nesting boxes to encourage the return of rosellas and lorikeets, as well as possums and micro bats, and a frog bog was constructed that has already become home to common eastern brown frogs and pobble bonk frogs. Birds, blue tongue lizards, butterflies and insects have returned in abundance.
The space has areas set aside for visitors to sit and soak in the surroundings.
Mornington Peninsula and especially Hastings residents can see the transformation during Bush Week Celebrations, 17-20 December. Between 10am-2pm there will be guided walks through the reserve as well as talks about native flora and fauna. Bush Week will end with a community barbecue, 12pm, Thursday 20 December.
Project leader Lachlan Knowles said the project was primarily about "doing something positive" to protect and nurture the peninsula's natural environments. He said it was a "great thrill" that many animals and insects were returning and that the indigenous plants were thriving.
"It was a real buzz to work with the participants and to watch them become inspired about caring for the environment as they learned about the plants and animals and their care," Mr Knowles said.
Participant Mark Glover said being in the project had given him greater knowledge of the different needs of a healthy environment. "I have learnt a lot of names of plants and enjoyed planting and seeing things grow and establish," he said. "I enjoyed making and installing the bird boxes; it's changing our environment for the better.
"The leadership of the project made it a pleasant place to work and it has been a therapeutic experience. I have gained skills that will help me get future work, I hope."
Hastings Community Hub is at 1973 Frankston-Flinders Road, Hastings.
Details: call 5979 1398.