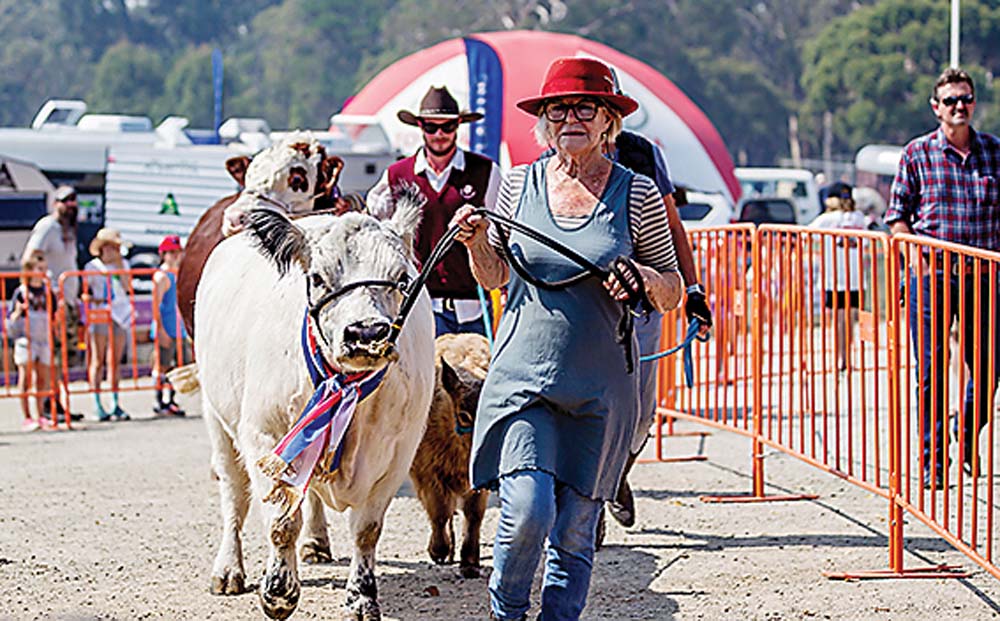 BITTERN'S Patrice Hunder is writing her own chapter in the book of animal husbandry.
There are no grand stud farms, DNA manipulation or special breeding techniques for this amateur cattle breeder who feels love on both sides is behind her success in the show ring.
It must be working. Ms Hunder, who leases a small property at Balnarring, won the supreme champion at the All Breeds Beef Classic at Red Hill Show over the Labour Day weekend with her miniature Scottish Galloway Torcroft Sylvia.
Nicknamed the "Animal Whisperer" by friend Bob Bates, Ms Hunder, 74, is a vegetarian and a cattle breeder – "perhaps the only one in Australia".
She has been entering the breed at the show for the past 14 years and loves the competition.
"I started out aged 57 looking to buy some animals to keep the grass down at Balnarring, such as ostriches, emus, or alpacas, before settling on two miniature Scottish Galloway cows to start a herd," she said.
Both cows were pregnant – one with a bull which launched Ms Hunder's cattle breeding and showing career. "The lawnmower man said he was beautiful and that I should show him," she said.
Ms Hunder, who admits to "not knowing the front of a cow from the back" in the early days, enrolled in a cattle handlers' course at the Melbourne Showgrounds and learned to prepare and lead show exhibits in the ring.
Confidently, she entered her six-month-old miniature bull at the 2003 Red Hill Show, but success was still far away. "It was a tiny little thing and the judges laughed and I left the ring in tears."
But, watching on, a wise old breeder from Balnarring saw potential. He suggested she enter the Royal Melbourne Show, which was only three months away. She took his advice, and the more-mature bull was judged grand champion.
"He won everything there," she said. "He beat 37 other miniatures."
More importantly, Ms Hunder admits she was "hooked" on the experience.
While struggling at times, especially after she split from her husband and moved to Dromana intending to sell off her cattle, Ms Hunder realised she loved them too much and kept them at Balnarring, driving over every day to feed them.
A few years later she bought a small holding at Bittern to keep an eye on her pregnant cows before putting them out with the main herd on an agistment property at Balnarring.
Living day-to-day off the farm, mainly "on chook eggs and veggies", she was content in knowing her animals were being well cared for.
"I know nothing about genetics or even feeding for the show ring, but my cattle are raised with love," she said. "Each animal knows its name and comes when called. They know they will never be killed for meat. When they are old they will go to the palliative care paddock where they'll be looked after until the end, as a thank you for the calves they have produced and the pleasure they have brought me."
Ms Hunder's cattle are sold only to other miniature Galloway breeders to improve the quality of their stock, or to small holdings on the Mornington Peninsula where the cute pets keep the grass down.
"All my animals are able to be led with a halter and they must all walk on and off a float or trailer without fuss as I have to manage them on my own," she said.
"I have been going to Red Hill Show for the past 14 years and often my cattle are overlooked by the judges because they are smaller than other breeds.
"So, to win supreme beef exhibit of the Red Hill Show, and to lead the grand parade with my seven-year-old Sylvia, was a very exciting experience."
First published in the Southern Peninsula News – 19 March 2019