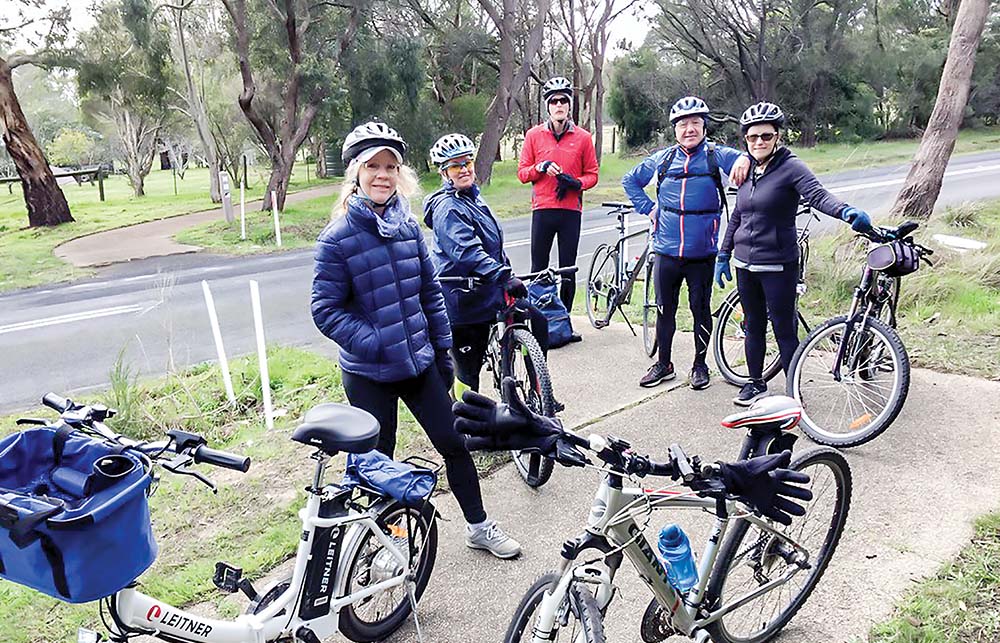 CYCLING, cycle touring and mountain biking could grow to define the character of the Mornington Peninsula as much as its established attractions, such as the wineries, beaches, boating and fishing.
The enjoyment of getting off the busy made roads, seeing the sights at a leisurely pace and spending money in shops, restaurant and cafes and on accommodation is being pushed by a group without business links or vested interests other than a love of the region and a wish that more people could enjoy its charms.
"This is an activity that has huge potential as is evident from the growth of bike paths and rail trails all over Victoria," advocate Chris Bakewell said.
A member of the Blue Wheelers Cycle Club says there is a need for a brochure outlining the joys of cycling on the peninsula.
"Cycling has many avenues of interest. Recreational cycling ranges from short rides with family or friends over easy distances and usually with rest breaks for tea or coffee before riding home," Mr Bakewell said.
"This is very popular with mature aged riders hoping to get fit or engage in social interaction.
"Cycle touring may introduce riders to longer distances with an emphasis on self-reliance and rest days which include other recreational pursuits and interests. It may also rely on local support and discovery of attractions that many areas of the peninsula offer.
"Mountain biking involves greater challenges with much stronger bikes and fitter riders. The trails are less developed and far more challenging.
"All these activities could be incorporated into this proposal as they are directly complemented by the natural surroundings and bolster local enterprises without altering the character of the peninsula."
Mr Bakewell says the Peninsula Link bike path connects to many areas outside Melbourne with trails that take cyclists off busy roads.
"Connecting the Peninsula Link trail along Frankston-Flinders Road from Baxter to Somerville opens the peninsula to the metropolitan cycling system and provides a connection to the trail that is already popular from Somerville through to Balnarring.
"This is almost entirely dedicated to cyclists and walkers avoiding the hazards of fast-moving traffic. The section already has refreshment shops, boardwalks, sealed surfaces and accesses a diversity of environments from country villages to rural settings, wetlands and mangroves with boardwalk variations.
"It also offers access to other activities which could be included as a tourist experience, such as a ferry crossing from Stony Point to French Island, where more rugged cyclists can visit, camp overnight or explore the island before returning.
"Fishing trips from Hastings could be linked to overnight stays at B&B accommodation. Ferry links could link tourists to Phillip Island as well as Churchill Island, the koala sanctuary and Penguin Parade, the Nobbies and surf beaches before taking the ferry back. Others could continue on past Kilcunda and on to Foster on rail trails or even on to Port Welshpool.
"If the trail from Balnarring was extended as a dedicated trail off the road to Shoreham and Flinders and then keeping close to the shoreline past Bushrangers Bay and Cape Schanck to connect with Gunnamatta Beach, this section could have offshoots for mountain bikes to explore inland up to Arthurs Seat and down through Greens Bush to Bushrangers Bay and then reconnect with the main trail."
Mr Bakewell is keen to see an elevated trail along the Bass Straight coastal dunes to protect the environment while offering views of the coast as far as Port Phillip Bay.
"This trail could also offer access to beautiful locations such as Rye back beach, Diamond Bay and the Bay of Islands," he said.
"Trail notes could direct cyclists to local B&Bs for overnight stays, to wineries and eateries and places of interest such as the Peninsula Hot Springs, or include horseback trail riding opportunities, as then continue on the route to Sorrento and Portsea before entering Point Nepean to explore the fortifications and Quarantine Station precinct.
"Cyclists could also take the ferry from Sorrento over to Queenscliff and enjoy a whole new range of experiences there."
Mr Bakewell said the potential was there for tourists to enjoy swimming with dolphins on Polperro or Moonraker excursions, scuba diving at the Portsea Hole, Popes Eye or wrecks, such as the Eliza Ramsden in the Rip. Visits to South Channel Fort by boat provide a fascinating history for tourists to discover, he said.
Mr Blakewell says the development of heavy industry could see the peninsula lose much of its charm to the touring cyclist.
"It has been Melbourne's closest holiday resort and recreation venue for decades but, if industrial development is pursued, all this will go."
First published in the Southern Peninsula News – 20 August 2019