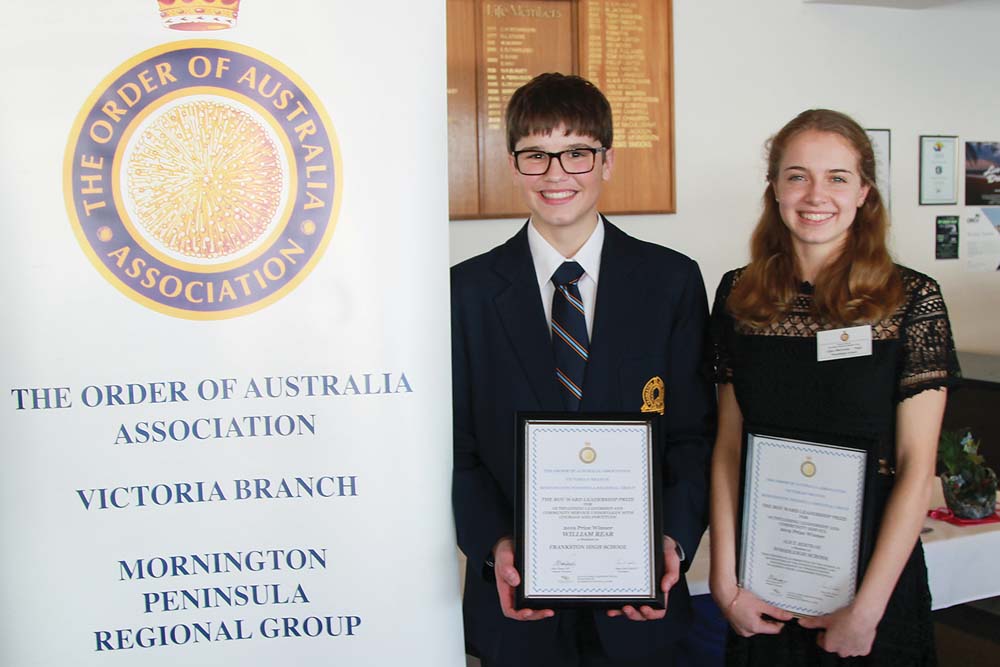 THE 2019 Roy Ward Leadership Prizes for secondary students were presented at the Order of Australia Association, Mornington Peninsula Regional Groups annual luncheon held at the Safety Beach Yacht Club and Community Centre on Friday 23August.
The Roy Ward Leadership Prizes have been recognised by secondary schools and students in our region, since its inception in 2000, as prestigious, with the process providing "real life" post-secondary education experiences.
Twenty-one secondary schools within the zone were invited to forward submissions. Fifteen nominations were received, and these were evaluated by a selection panel of the Group's members. Six submissions were short listed to interview to determine the winners.
The winner of the 2019 Roy Ward Leadership Prize for a student who has shown exceptional leadership and community service was Alice Bertram from Woodleigh School.
Alice is a year 12 student involved in all aspects of school life. Alice is the recipient of Melbourne University Kwong Lee Dow Scholarship and has been awarded the Australian Defence Force Long Tan Leadership and Teamwork Award.
Alice is committed to environmental conservation making people aware of the plight of elephant poaching and involvement through the Melbourne Zoo's eastern bandicoot program and their program "When Balloons Fly Birds Die".
In year 10 Alice was one of ten students selected to travel to Indonesia as part of a scientific excursion to study rainforests and reefs.
Alice is a keen sportswoman and is involved in swimming as captain of the school swim team, cross country and athletics and was a founding member of the Woodleigh Ovella Park Sheep Stud.
She also is a member of the Woodleigh Focus Orchestra and the flute ensemble. Alice is a qualified firefighter and is a member of the Edithvale CFA.
The winner of the 2019 Roy Ward Leadership Prize for Courage and Fortitude is William Rear from Frankston High School.
This Prize was introduced in 2018 and is granted to a secondary student in years 10, 11 or 12 who has demonstrated in their school, outstanding qualities of leadership, character and community service, while facing significant challenges in their own lives.
In 2011 following the onset of headaches that became increasingly more severe, William was diagnosed with brain cancer and was rushed to Monash Children's Hospital where after a six-hour operation most of the tumour was removed.
However in 2017 the tumour regrew and William faced another major operation which thankfully has cleared William of cancer but left him with many residual complications, including multiple hormone deficiency and short-term memory loss.
William is a key member of the Frankston High School Student Leadership Council, a volunteer and leader in an Acquired Brain Injury Clinic giving hope and encouragement based on experience especially in memory and speech techniques.
In 2014 William attended the Asian Pacific Children's Convention in Japan and remains involved as part of the selection panel for ongoing attendees. Through his involvement in Tour de Cure and Baileys Day events he has been able to turn a passion into tangible assistance.
Although William will have to deal with the residual effects of his treatment for the rest of his life, he gains strength by reminding himself "that you have to fight through some bad days to earn the best days of your life".
First published in the Southern Peninsula News – 17 September 2019