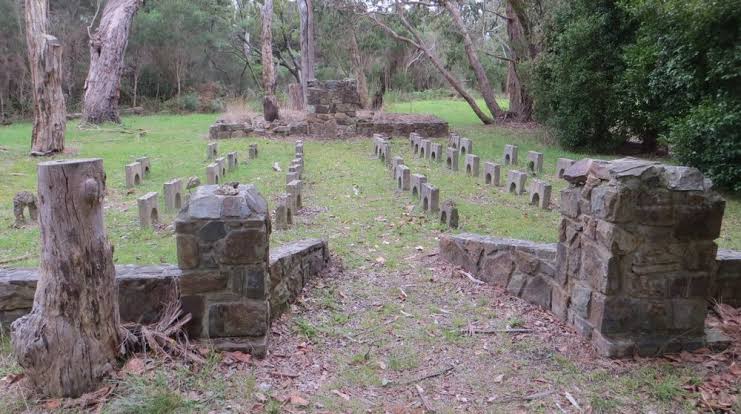 YMCA Camp Buxton: Cyril Young Memorial Chapel Association
Annual General Meeting – Shoreham Hall, 2.00pm, Saturday November 16.
The Cyril Young Memorial Chapel is the open-air chapel located at the site of the former YMCA Camp Buxton in Buxton Woodland Reserve, Shoreham. Historically, for many city boys attending the camp, the camp service at the chapel was their first experience of the sacredness of the natural environment, the chapel being set in a grove of swamp gums adjacent a wetland alive with fauna, mammals, birds and insect life. Archival records from the late 1940s demonstrate how the YMCA's Shoreham Camp Committee purposefully designed a 'chapel in the woods' as a memorial to all members who served in World War 2 and particularly to one of their fallen leaders, Cyril Young.
The chapel, previously neglected for many years, is now listed formally on the register of Victorian War Memorials. The Cyril Young Memorial Chapel Association comprising members of the Young family, Shoreham residents, ex-campers, the YMCA, Flinders RSL, the Flinders and District Historical Society and the Shoreham Bushland and Road Reserves Working Group is working actively in partnership with Mornington Peninsula Shire towards its restoration.
On Saturday 16 November the Association will hold its first Annual General Meeting at 2.00pm in the Shoreham Community Hall (Old School Hall), Byrnes Road, Shoreham. Anyone, particularly ex-campers, with an interest in the history and restoration of the chapel is welcome to attend and hear about recent developments and the work of the association over the last 12 months. The guest speaker will be Barry Furness describing his experiences at YMCA Buxton Camp, both as a young boy attending the camp and later as the resident Camp Manager.