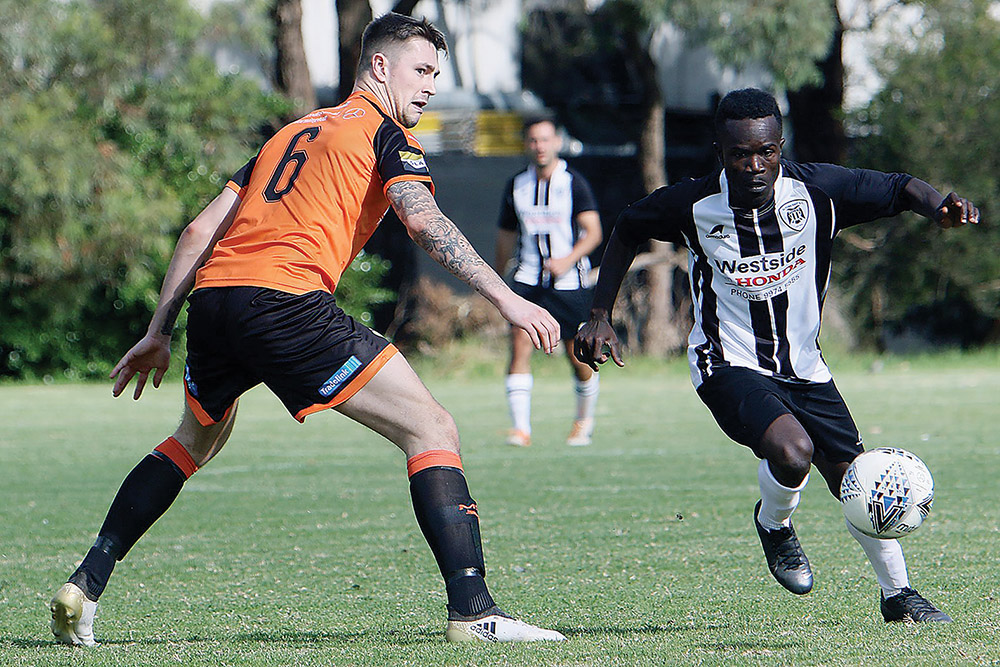 SOCCER
MORNINGTON import Josh Heaton cost Scottish Premier League club St Mirren £75,000 in June 2018.
The then 21-year-old became the most expensive signing in 25 years for the Buddies but the following year he joined Darlington on a free.
"A lot of it comes down to the manager really and sometimes it just happens that way," Heaton said.
The young central defender is among thousands of players in Britain subject to the vagaries of the professional game and a look at his CV highlights the circuitous route he has taken to arrive at Dallas Brooks Park.
Heaton is from Preston in Lancashire and came through Preston North End's academy before signing pro forms in July 2015.
Here's what transpired after that:
He joined Tamworth on loan in November 2015, Colne on loan in March 2016, Droylsden on a free in August 2016, Stalybridge Celtic on a free in October 2016, Bamber Bridge on a free in July 2017, Ramsbottom on a free in October 2017, Darlington on a free in November 2017, St Mirren for £75,000 in June 2018, Kidderminster on loan in June 2019, Darlington on a free in August 2019 and Bradford Park Avenue on a free last September.
Former Celtic and Everton defender Alan Stubbs was St Mirren manager when Heaton penned a three-year deal at Love Street.
Stubbs claimed St Mirren beat off competition from English Premier League and Championship clubs to sign the highly-rated Heaton.
"I'm absolutely delighted," Stubbs said at the time.
"It's a sign of intent and I'd like to thank the board for putting their trust in me.
"You only have to look at the clubs who were wanting to get Josh, and to have got him is quite a coup."
Stubbs was sacked after four league games and last year the club released its star signing.
But the direction of Heaton's career changed dramatically thanks to a chance conversation a couple of months ago with a friend in Preston.
This led to his move here as that friend also knew Mornington assistant coach Nathan Peel and striker Josh Hine.
"I'd thought about coming to Australia for the past couple of years but everything happened really quickly once I'd actually decided to come over here," Heaton said.
"I applied for my visa and that came through within a few days and the next thing I knew my flight was booked for about three weeks later so within about a month I was here."
He arrived on Sunday 8 March and six days later played his first match for the Seagulls in a 2-1 FFA Cup win at home against Altona East Phoenix.
It was 0-0 at half-time and Altona East Phoenix took the lead in the second half before a Hine double settled the issue.
Heaton played in a central midfield role in the first half before switching to his preferred central defensive role in the second period.
"I found it quite easy in the first half and to be honest I thought we were cruising," he said.
"We should have been two or three up at half-time then they scored a fluke goal from inside their own half and that completely changed it.
"I went back to centre half and that's my natural position.
"We changed to three at the back and I enjoyed it and we went on to deservedly win the game."
The match gave Heaton an insight into the standard here and he's confident that he'll quickly adapt.
"There's not the same pressure here as you'd get back in the UK and it's not as physical but there's still pressure on me to perform because people see your CV and they expect big things.
"I'm just looking forward to being here, to getting my head down and working hard and enjoying my football.
"I'm here to play well but I'm not here thinking I'm some sort of amazing footballer or anything like that. It's not my style."
The transition from professional football in the UK to semi-professional ranks in Victoria's State 1 South-East has been seamless so far for Heaton.
That's a measure of the way his teammates have welcomed him into their ranks.
"They're my type of lads to be honest. Everyone's been so nice and helpful and although I haven't been here for long I already know that I want to stay here.
"I've got the impression that Mornington is a family club which is something I really like.
"I think I've come to the perfect club for me and the perfect set-up."
But there's a sombre mood at the club right now.
Heaton arrived at Mornington a day after long-time team manager Tony McKay had collapsed and was rushed to hospital.
McKay died in the early hours of Sunday 15 March and his funeral was held today (Tuesday).
Due to the coronavirus pandemic numbers at today's funeral had to be capped at 15 and attendance was by invitation only.
Mornington explained the situation on its facebook page:
"The club would like to advise that due to the current climate the wake will also be put on hold until we can honour Tony with the proper memorial he deserves.
"We appreciate that in this tough time some people will be upset by this message but hope that when the time is right we can all get together to celebrate such a great man."
Meanwhile Somerville player-coach Dave Greening has a plan for re-organising the 2020 and 2021 seasons.
The teacher at Boneo Primary School is experienced in arranging sports events and believes that co-operation between local soccer, footy and cricket clubs is key to leading both codes back to normalcy.
"My suggestion is starting both the local footy and soccer seasons on the first weekend in June," Greening said.
"This will give both codes 22 weekends to complete seasons by the end of October.
"Cricket season is put back to the start of November with all teams playing each other twice but in just one-dayers as a one off.
"Excluding the two-week break over Xmas this would give cricket 18 Saturdays to complete their season on 20 March.
"The 2021 footy and soccer seasons then begin on the first weekend in April next year when normal service is resumed.
"Obviously this is subject to all being well and us all being able to resume playing, coaching and supporting the clubs and sports we love from the start of June this year.
"But all sports need to come together for the greater good and support each other where we can all benefit and enable the continuation of local sports and clubs when safe to do so.
"I just hope that common sense among the powers that be can prevail once we are on the other side of this thing."
Greening also wants FV's competitions department to consider revisiting their fixture strategy.
"We shouldn't have catch-up rounds in a normal season anyway. I'm not aware of other countries doing it," he said.
"We should be playing on Saturday and Monday across Easter weekends, for example, with local derbies organised for Mondays like they do in the UK.
"Imagine having Rosebud v Mount Martha at 12pm, Baxter v Somerville at 3pm and Skye v Strikers at 6pm on an Easter Monday.
"This surely would bring in much-needed revenue for those clubs."
In other news it was expected that Football Federation Australia would make a major announcement about the A-League, state NPL and grassroots competitions as we went to press.
Many clubs have expressed dismay at FV's continuing fees and charges while revenue streams have dried up but it's understood that the national body was due to address that situation in an announcement impacting all levels of the sport.