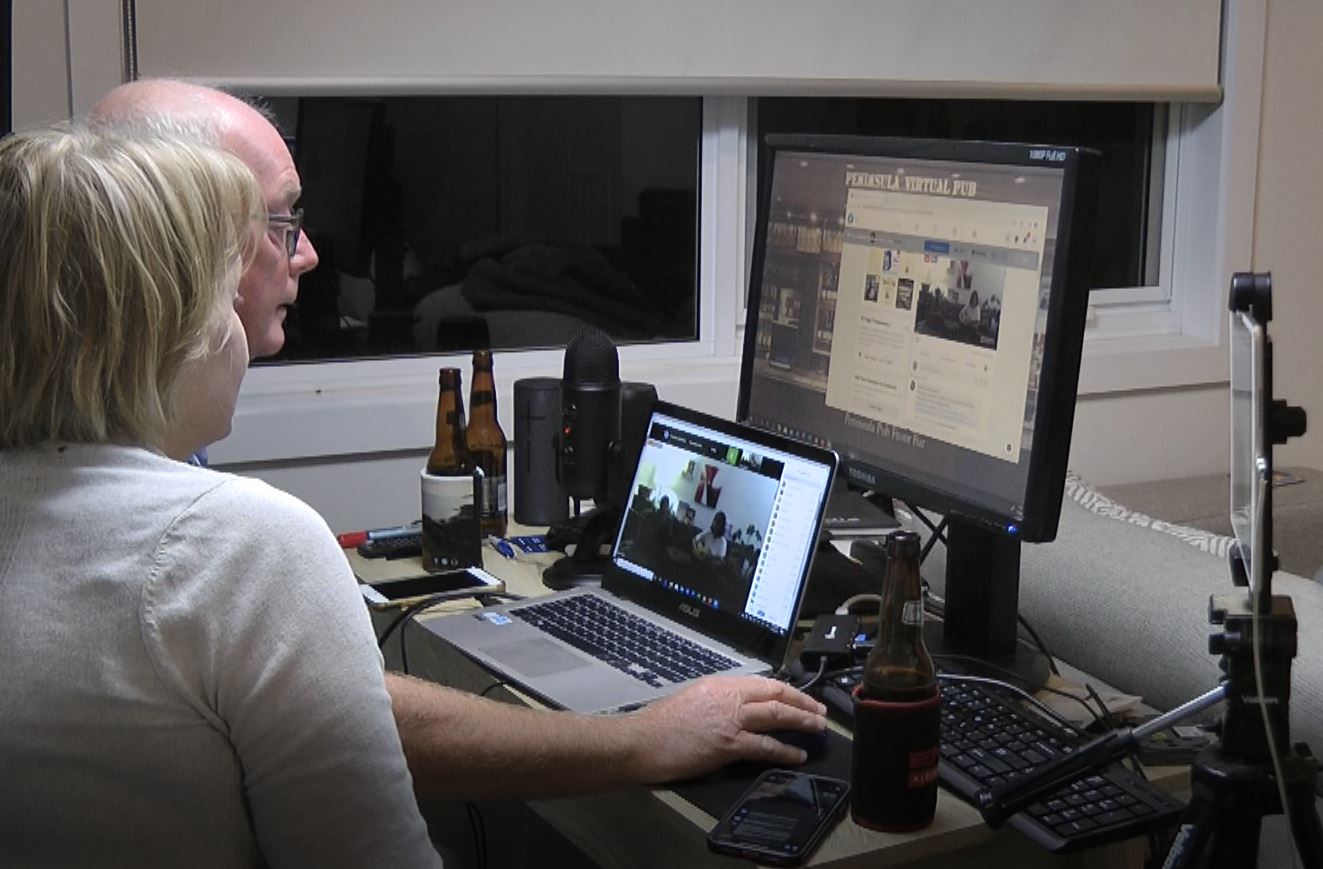 GARRY Gosling is doing his bit to support the now dormant live Mornington Peninsula music scene.
He and partner Connie Beckett have opened the Peninsula Virtual Pub to help people get together for a drink online on a Friday night and interact with others in their Social Isolation Bar.
But, while they are enjoying social time together, their "pub" is also giving local musicians an audience which helps them earn some much-needed income in these troubled times.
"We were sitting around when the [stage three COVID-19] restrictions started, saying what a shame it was that we couldn't go to the pub to meet friends and listen to music," Mr Gosling said.
"I went online and watched a couple of streaming services but they didn't engage with the audience."
Over Easter, he and Ms Beckett – who is in IT – built the pub system in liaison with peninsula artist Maxon, a finalist on The Voice, who used her social networks to bring artists together for pub performances.
The current social distancing restrictions have denied performers their usual sources of income, and their employment arrangements often disqualify them from accessing jobless benefits.
"They have no incomes, no venues in which to perform and aren't allowed to busk," Mr Gosling said.
The pub is helping change this: "Entry to the virtual pub is free and we ask patrons to donate to musicians if they like what they hear.
"We had 50 patrons in the pub on Friday 17 April and 150-plus watching on Facebook. Maxon, and Velvet Bloom, a Triple J Unearthed performer, performed live and free."
The pub's 1980s trivia session, hosted by funny man Rom Jon, was won by a doctor in his late 70s from Main Ridge.
"We have now got people booking private birthday parties with a theme and live music so that they can involve guests from around the country or the world," Mr Gosling said. "They can do a speech and send love in a secure private online room with live video and entertainment."
The line-up for Friday 24 April was Chris Commerford band and Ruby Whiting, with the trivia session referencing the 1990s. This week, Friday 1 May, the pub will feature singer/songwriter Max Rowe and indie/folk music duo Sunday Lemonade.
Karaoke and even a darts competition are planned.
"We may soon start Sunday sessions as we have a bunch of really good acts lined up," Mr Gosling said.
"People can join in and interact with each other and the artist or be passive and stream live from Facebook. Originally we thought acts should go for around 20 minutes but, because people are interacting with the artists, they are able to go for up to 40 minutes."
The new opportunity is appreciated by the artists: "Mason said she cried with joy all weekend," Mr Gosling said.
Acts are booked until the end of May, with private functions also possible. "People can send us their email address and we will send them a link. They can chat together as the music comes on and plays and we moderate. We charge some money for the artists."   
"Anything we can do to help the music scene is vital because we are going to need it when we come out if this," Mr Gosling, a live music fan and regular at The Dubliner, The Grand, Mornington Yacht Club and Mornington Golf Club on different nights during the week, said.
Visit peninsulapub.org to provide an email address and receive a link to the pub, or go to facebook.com/peninsulavirtualpub
Updated and published in the Mornington News – 28 April 2020