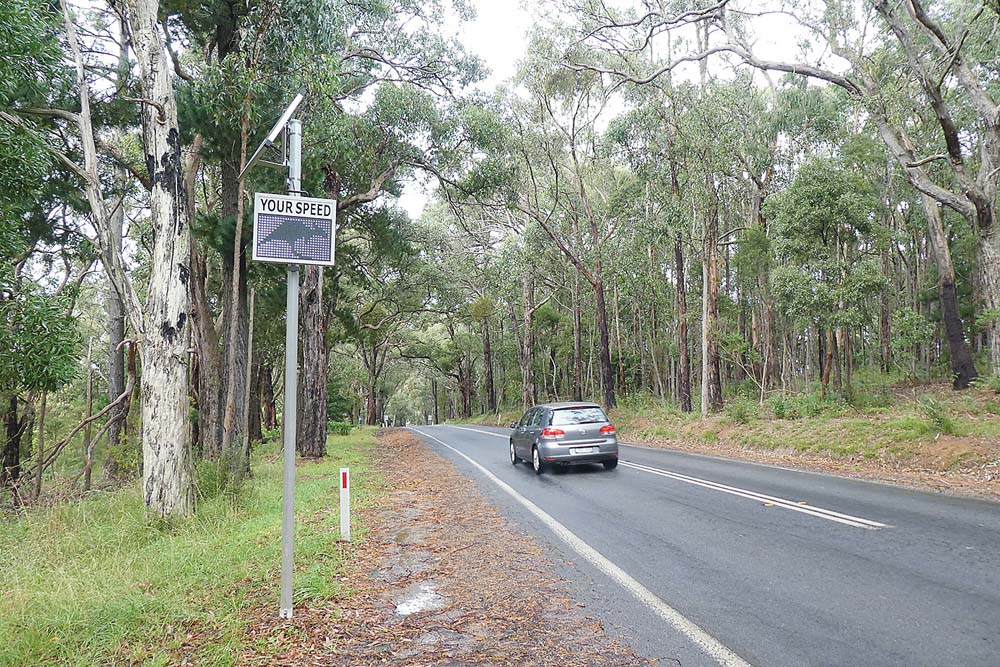 ELECTRONIC warning signs are being credited with cutting the number of kangaroos that have been killed on some of the Mornington Peninsula's rural roads.
Four solar-powered signs were placed on roads with high recorded incidences of kangaroo deaths: Point Leo Road, Red Hill South, Purves Road, Arthurs Seat, and Browns Road, Main Ridge, including the end of Jetty Road, Boneo.
Mornington Peninsula Shire statistics show that 10 kangaroos were killed from July 2018 to June 2019 in Browns Road, Main Ridge, with just two being killed there after the signs were erected from August 2019 to March this year.
The statistics show 20 kangaroos were killed over the same time in Purves Road, Arthurs Seat and only three killed in the same period after the signs were erected.
The number of kangaroos killed in the same period in Pt Leo Road, Red Hill South, remained at two.
The signs, paid for with $30,000 from the Transport Accident Commission's and $10,000 from the shire, have now been removed to be eventually used on other rural roads.
Kangaroos – predominantly eastern greys – reportedly make up at least 90 per cent of all wildlife collisions, with habitat loss partly blamed for their deaths.
Animalia Wildlife Shelter secretary Craig Thomson five years ago said kangaroos were being forced on to road reserves by the clearing of vegetation for housing and gardens, and by property owners building three metre kangaroo-proof fences, especially in the Tuerong to Cape Schanck area ("Roo slaughter on our roads" The News 29/9/15).
It could only have become harder for them find food since then, with added risk posed by an increase in the number of cars on peninsula roads.
"The fences limit their ability to move across the land," Mr Thomson said at the time.
The signs project evaluation had shown a "significant reduction in kangaroo roadkill and also a reduction in vehicle speeds along the project roads", the mayor Cr Sam Hearn said.
"We hope this signage will continue to inform and educate road users of wildlife risks associated with peninsula rural roads and encourage safer driver behaviour."
Cr David Gill was a strong advocate for the signs: "There is significant community concern regarding kangaroos and other fauna being killed on our rural roads. The signs will contribute towards possibly saving human life and protecting our dwindling wildlife."
Mr Thomson said it was often thought that large numbers of kangaroos being killed on roads was a sign of an expanding kangaroo population but this was not the case on the peninsula.
"Kangaroos [here] are an isolated population and we could lose them forever if we don't protect them."
The Australian Wildlife Protection Council was a partner in the signs project, which was supported by the Nepean Greens and Red Hill South Landcare Group.