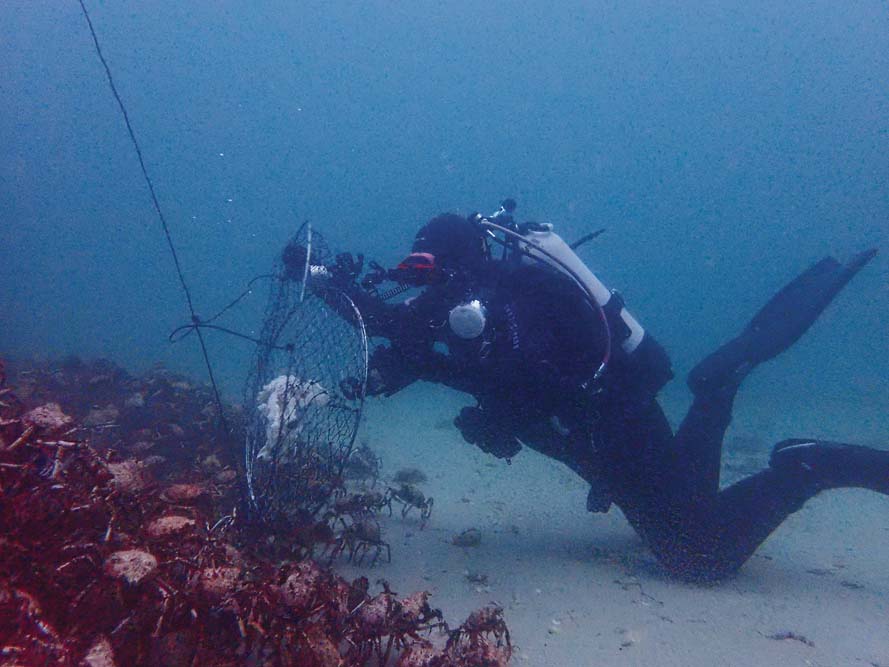 OPPONENTS of the harvesting of moulting crabs at Rye say Victorian Fisheries Authority regulations are "out of step" and "urgently require review".
They say thousands of crabs congregating under piers in late autumn-early winter are being plundered at their most vulnerable moment.
Rye pier was so crowded on Queens Birthday Weekend 7 June that it was closed by police over fears crab fishers were breaching COVID-19 restrictions.
Since then, divers have found up to 80 chicken carcasses used as bait littering the sea floor and attracting sharks which are endangering snorkelers, and causing environment pollution.
Mornington Peninsula Shire Council on 9 June called on its CEO John Baker to take "urgent action … to help ensure that the seasonal congregation of spider crabs occurring now in the Rye area be protected from illegal poaching".
Cr David Gill said the crabs' annual shell shedding was "an iconic event that can't be seen anywhere else".
"People don't get to see these crabs at any other time and we need to make sure that this poaching doesn't happen again," he said.
Cr Gill acknowledged that the holders of fishing licences could catch up to 30 crabs, but had witnesses to prove this was abused as crab catchers returned to the pier for another batch after leaving their first catch in their vehicles.
"I know a lot of the people on the pier had [fishing] licences, but a whole lot didn't and people have told me that Fisheries officers refused to go onto the pier to check. My view is that Fisheries, in the main, decided to do nothing about it," he said.
Spider Crabs Melbourne founder PT Hirschfield said alerts to the Victorian Fisheries Authority of "increased pressures on the crabs and surrounding marine environment" were "falling on deaf ears". This came after authority director Dallas D'Silva indicated he had no intention of reviewing the current regulations regarding numbers of spider crabs caught. ("No moves to ban crab 'plunder'" The News 16/6/20).
"We urge the VFA to consider the relevance of the current regulations in light of the drastically increased crabbing activity. The annual arrival of [crabs] into shallow waters is globally celebrated as a natural phenomenon which attracts local, national and international tourists to Port Phillip each winter," Ms Hirschfield said.
Spider Crab Alliance's Jacqui Younger said regulations permitting the daily taking of 30 crabs a person was written long before "intensive, around-the-clock crabbing at piers" began. She scoffed at a VFA claim of a 92 per cent compliance rate among 197 inspections at Rye pier. "Many witnesses have reported seeing production-line processes in the harvesting of crabs," she said.
"It was a common observation. Divers have been collecting car fridges full of crabs for those on the pier and transporting them offsite, allowing those on the pier to continue fishing for hours without being detected by fisheries officers as holding more than the legal limit."
Steve Dale, also from Spider Crabs Melbourne, said: "The crabs are being harvested so quickly and in such huge numbers [that] they are not getting a fair opportunity to moult which is the entire purpose of their aggregation."
He said many fishers strongly opposed the "crabbing practices they've been witness to".
The pro-crab groups are calling on the state government to enforce its new Marine and Coastal Policy, which came into effect in March, and follows on from the Marine and Coastal Act (2018).
The policy requires coastal and marine decision makers to "build understanding and knowledge of the condition and values of the marine and coastal environment". Mr Dale is adamant the policy should not be "just another bunch of words in another shiny document".
First published in the Southern Peninsula News – 23 June 2020