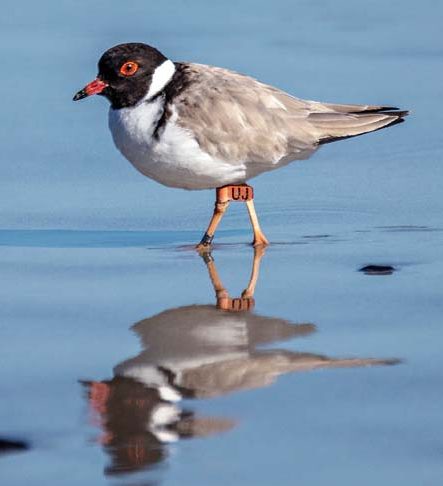 IT can be hard to keep track of hooded plovers as they flit around from one place to another, unrestrained by any travel bans.
But, dedicated followers of the locally endangered birds can sometimes manage to build up a character study of individual birds.
One such bird, UJ, was first tagged as a 28-day-old chick on 5 April 2013 at Hamers Haven, on the Bass Coast.
Last week, she was near Mushroom Reef, Flinders a place that in some ways UJ has come to call home.
Although a blood sample was taken from UJ seven years ago bird banders were unable to determine her gender.
In subsequent years UJ was found to be female, laying eggs in at least 11 nests (usually no more than a small hollow in the sand) over the past five years.
Unfortunately, no volunteers from the dedicated Friends of the Hooded Plover has ever seen a chick hatched in one of UJ's chosen home sites.
"The failures of theses nests have included tidal inundation, various predators and also unknown causes," Friends of the Hooded Plover (Mornington Peninsula) president Mark Lethlean said.
"She has had a few partners over the years, including a young bird from Phillip Island flagged Yellow 52, who we know from DNA tests to be male."
Although it is unlikely that UJ and Y52 are still a breeding pair, they were both back on the Mornington Peninsula this month.
UJ at Flinders and Y52 at St Andrews, near Rye.
Mr Lethlean photographed Y52 feeding with a flock of 20 birds last week and photographer with The News Gary Sissons took shots of UJ at Flinders.
While the locally endangered hooded plover numbers appeared to be on the increase between 2016 and 2018, when 25 birds fledged, or reached the flying stage, things have dropped since, with numbers being more than halved.
"We have seen more nest failures lately, which means less chicks hatching and in collaboration with BirdLife Australia and Parks Victoria we are currently looking to investigate the possible causes," Mr Lethlean said.
Hooded plovers have a precarious survival rate, with just 25 chicks fledging in the two breeding seasons between 2016 and 2018 from 341 eggs laid in 156 nests. Just 98 of the eggs hatched.
Over the two following years the number of eggs dropped to 271, resulting in 61 chicks of which 12 fledged.
Only once in four years did the number of survivors reach the number regarded as necessary for the hooded plovers to maintain a viable population.