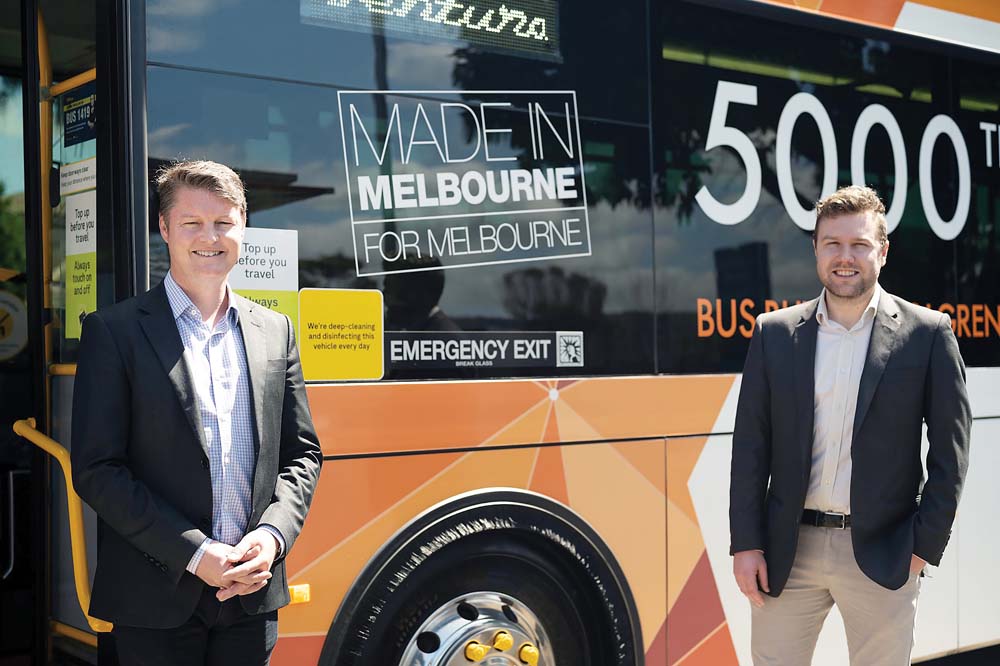 THE state government has allocated $13.85 million in the Budget to improve timetables and the frequency of bus services on Mornington Peninsula.
Services on Route 788 from Frankston to Portsea will soon run every 30 minutes on weekdays and every 40 minutes on weekends – instead of the previous 40-50 minute frequencies – to tackle overcrowding and give passengers more choice about when they travel.
Mount Martha bus users will have better bus access with an extension of the Route 781 service to Dromana, while Route 887 – between Rosebud and Frankston – will be redirected along the Mornington Peninsula Freeway to reduce travel times for some passengers.
The better bus services comes after a long campaign by Mornington Peninsula Shire Council: "Businesses, community back Better Buses push" The News 4/11/2019 and "Support for Better Buses campaign" The News 8/10/2019.
Public transport minister Ben Carroll visited Rosebud to announce the changes alongside Nepean MP Chris Brayne last week.
Mr Brayne said the state government had "listened to the community who have been calling for better bus services".
"Peninsula locals will soon be enjoying more frequent and more reliable buses on the busiest routes in the area," he said.
"We know the peninsula gets busy in the warmer months – that's why these extra services over summer are so important, giving passengers more choice about how and when they travel."
The men said the new timetables would suit those who rely on buses to get to work, school or university, as well as medical services and social events. Also, tourists will be better connected to popular attractions and to Frankston station.
As a major holiday destination because of its beaches, food and wine venues and markets, the Mornington Peninsula is often affected by travel time increases and overcrowding – especially in summer.
The funding aims to ease these concerns by increasing summer weekend services on Route 788, as well as updating the timetable with more accurate journey times to reflect the increased traffic that can slow down buses.
The Bus Network Improvements program aims to give passengers more choice about when they travel, and improve the connectivity of bus services to train and, further along, tram services.
Planning for the network changes will begin early next year, with time frames publicised in coming months.
Minister Carroll said: "We know buses are an important service to Victorians – which is why we're making a significant investment to improve bus networks across the state to help get passengers to where they need to go on time."
"These changes will help to encourage people to leave their car at home – connecting them to important services and tourist attractions right along the peninsula."
First published in the Southern Peninsula News – 8 December 2020