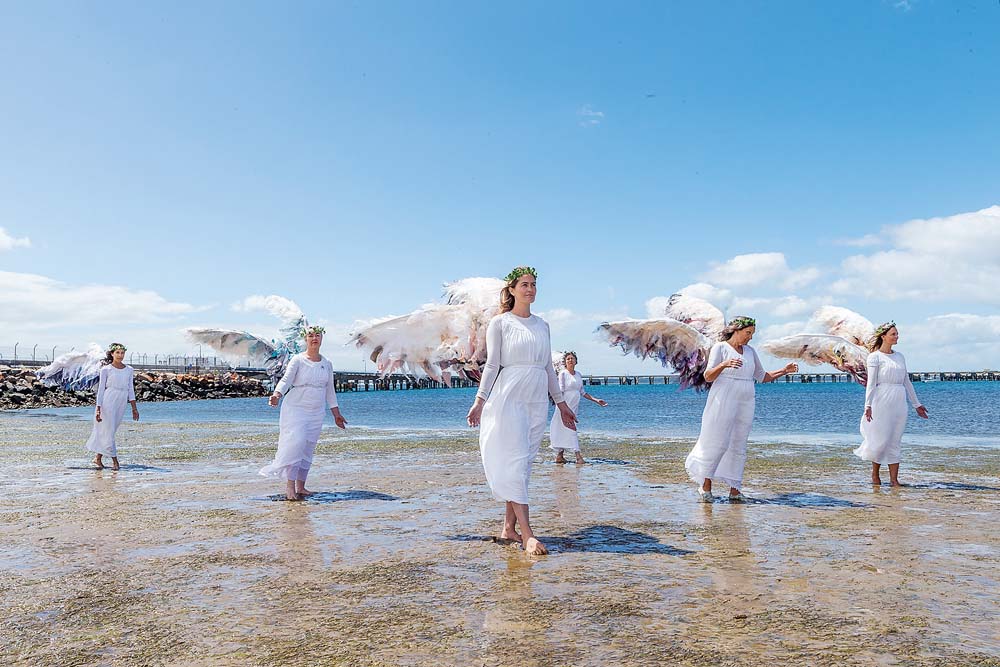 THE Climate Guardian Angels were out on the mudflats at Crib Point on Monday (22 February) to highlight what an "environmental travesty" power company AGL's gas import terminal would be for Western Port.
The "performance collective" believes its direct action can "communicate important and sensitive information in non-threatening and yet enormously effective ways".
The "angels" have been around since early 2013 "holding powerful polluters and their enablers (such as politicians, media and financiers) responsible for the climate and biodiversity crisis to account".
This time, they have been joined in their criticism of AGL by the state Opposition and Flinders MP, Greg Hunt. In 2015, when Mr Hunt was environment minister, the angels' performance involved climbing onto the roof of his Hastings office opposing his approval of Adani's Queensland coal mine.  But last week state and federal liberals were on the side of the angels, spreading the word against AGL's proposal  ("Opposition against AGL gas terminal" The News 9/2/21).
On Monday, the angels brought along their own photographer for some publicity stills while police led away a man who questioned what fuelled their mode of transport.