THE Volunteer Marine Rescue Service's 40th anniversary awards night last week commended the thousands of marine rescues the service has performed since it began in 1980.
The gathering of Mornington and Hastings VMR members at The Royal Hotel, Saturday 22 May, was also a chance to honour the operational and support volunteers that make all of the search and rescues possible. It was to have been celebrated last year, however, due to COVID-19 was delayed until this year.
The service was grateful that Sue Darbyshire and her family could attend to be part of the celebration and hand out awards to VMR members past and present. The family name is synonymous with the launch of the rescue service which began in 1980 after the drowning of her husband Paul while out fishing. The tragedy led to a public meeting at Mornington racecourse where the gap in rescue service capabilities was identified between Frankston and Safety Beach.
The Mornington Community Bay Rescue Service – now Volunteer Marine Rescue – was launched that year. ("Rescuer heads to shore after 41 years" The News 17/5/21).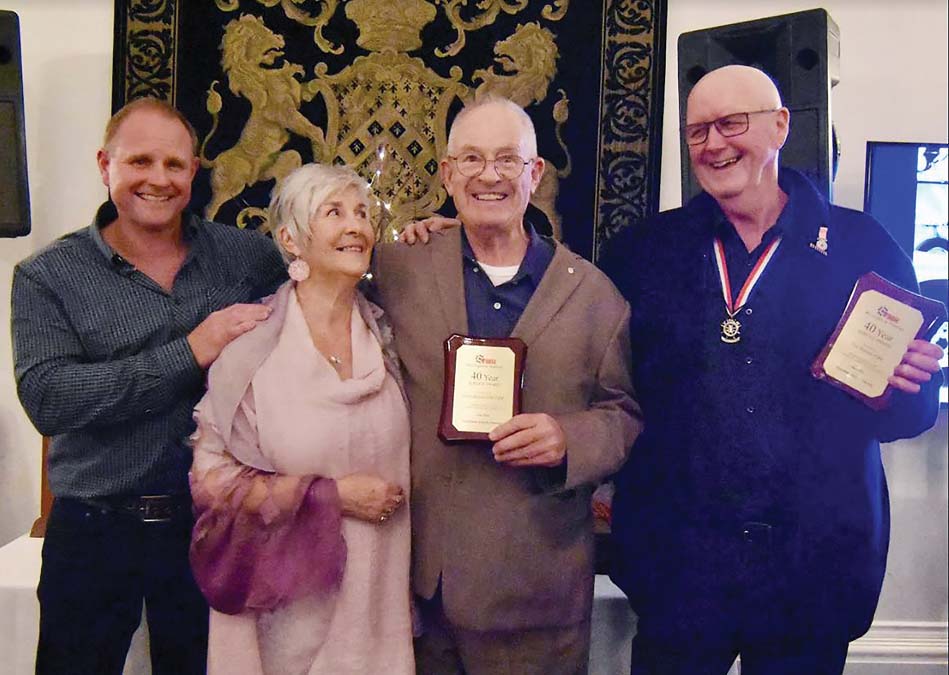 President Neil Cooper said: "VMR has a great culture steeped in history and it is a testament to all current and past volunteer members that we have such strong volunteer numbers in both operational roles and in support roles. On Saturday we presented 24 awards to members in recognition of their service."
Emergency Services Medal awardees Tim Warner and Clive Reddecliffe, who are both founding members, were presented with 40 year operational service awards. Six members received operational services awards for five years' service, one for 10 years, two for 15 years, five for 20 years and one for 25 years.
Mr Cooper said: "It was a fantastic opportunity for current and past members to reflect on why the service was established and the ethos of why it has gone from strength to strength. We aim to be the best we can with high standards for training and buying the best equipment we can afford.
"In 41 years there has never been a request for assistance that we haven't been able to attend, regardless of time of day or weather conditions."
Visit vmrmornington.com.au