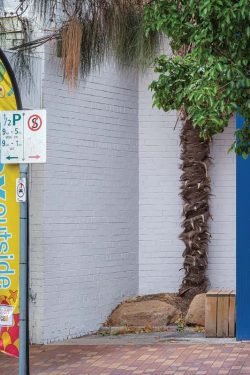 A LARGE council-commissioned mural in Mornington's Main Street has been painted over and will be replaced because it too closely resembled work by a European artist.
Mornington Peninsula Shire Council paid $5000 for the mural as part of its graffiti prevention project around Mornington and Hastings.
Council representatives and the commissioning artist Adrian Boyle unveiled the mural on 20 December, but the council was later told that Portrait of a Local Fisherman was too similar to a street mural in Switzerland.
That information led to the mural being covered up and later painted over.
The council's community activation manager, Natasha Petkovic-Jeremic, said the mural would be replaced with a work by Tyson Savanah.
"The decision was made after we were notified the work titled Portrait of a Local Fisherman by artist Adrian Doyle of Blender Studios very closely resembled the Swiss work by artist Fabian Bane Florin," she said.
"Given the graffiti prevention mural project specifically supports original works, and to follow best practice, we decided to paint over the mural and commission a new work."
The council said Mr Doyle had taken full responsibility for the mix up and would refund the $5000.
"Through our arts and culture plan 2024 we aim to invigorate our streets and urban design with more arts and culture," Ms Petkovic-Jeremic said.
"Murals help to prevent ongoing graffiti, improve amenity, engage the public, and create wellbeing and belonging in our community."