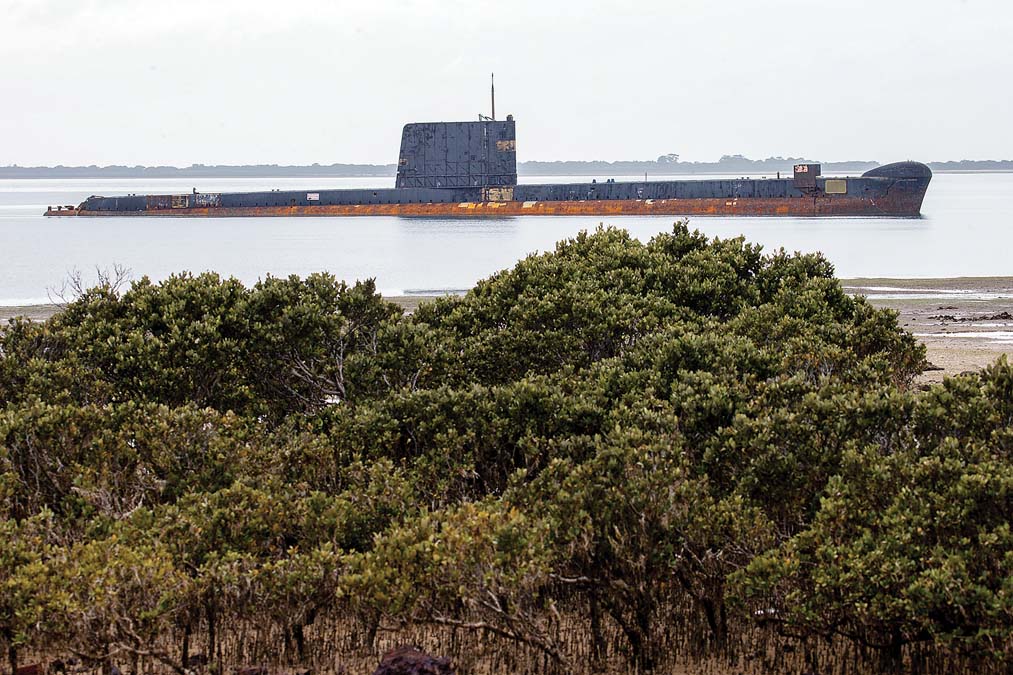 THE movement of vessels in and out of Western Port is again attracting attention and raising concerns.
Long time backers of the plan to bring the submarine Otama ashore as the centrepiece of a tourist attraction fear it is about to be towed away and scrapped.
Several sources have told The News that a semi-submersible ship will be used to take the submarine to Navy dockyards in South Australia.
The cost of taking the Otama to South Australia has been put at $5 million while Parks Victoria has spent an estimated $1m in the past year on moorings and work to prevent it from sinking.
Over the past two decades the Otama has survived many threats to its existence and been granted extensions to deadlines set for it to be brought ashore ("Reprieve for Otama" The News 21/9/21).
However, its apparent sale for $1 to Parks Victoria (reportedly yet to be paid) has seen Western Port Oberon Association lose control of its future.
The association was unable to raise the estimated $500,000 to bring the Otama ashore and selling it to Parks appeared to be the only alternative.
Ironically, the Otama's most recent "voyage" saw it towed to shallow water to prevent it sinking. It will have to be towed back to deeper water before it can be loaded onto the semi-submersible for what will inevitably be its final voyage.
Alex Fensome, Parks Victoria media manager, said on Monday the Otama "situation" had not changed "and the claims about someone being engaged to take it away aren't true".
He said the association has failed to comply with three previous notices to move the deteriorating submarine and Parks had "notified the vessel owner of its intentions to remove the Otama from Western Port by way of sale, gift or disposal".
Meanwhile, on Thursday, Kawasaki Heavy Industries' made-to-order hydrogen carrier Suiso Frontier is due to arrive for the first time.
The ship is designed to carry liquified hydrogen made from brown coal in the Latrobe Valley to Japan ("Pest fears over hydrogen exports" The News 20/12/21).
The hydrogen from brown coal project began more than a decade ago and the state and federal governments each gave $50 million towards the $400m trial. Since the Hydrogen Energy Supply Chain Project (HESC) began, experts, including the CSIRO, have suggested the cost of making hydrogen through renewable electricity powered electrolysis will be competitive if not equal to brown coal by 2025.