EVERY Monday until the end of May, volunteers around the Mornington Peninsula are being asked to search for little black nuggets – the poo equivalent of searching for gold.
The volunteers are part of a study led by Kelly Smith, of Dromana, from Federation University, which is gathering information on the movement and health of koala populations around the peninsula and Gippsland.
There have been plenty of Eureka moments for Smith and her volunteers, with every find contributing to a bank of evidence and data about presence of disease, genetic diversity, ancestral origin and gender.
Smith says the genetic sampling of koala scats (poo) is an ethical method of research because researchers are not bothering the koala, and the cost of research is minimal.
"It's amazing what you can find out by analysing koala scats, so on every Monday for the rest of this month I will be calling on volunteers to help me visit certain areas and look for scats," she said. "It's a great way to help understand the koalas that we have left and work on ways we can help them."
The Mornington Peninsula Koala Conservation group is involved in the citizen science project, but more people are needed to find koala scats across the Gippsland plain – which includes the Strzelecki and Wilsons Promontory bioregions, and the Mornington Peninsula, Cardinia, and Bass Coast areas.
"It's really important to find volunteers who can help with this project because more than 70 per cent of koala habitat is on private property, and therefore most koalas are located on private land and difficult to access without permission," Smith said. "It's helping us to determine where the koalas that are here came from, whether they are part of the koalas from French Island, or from around the Gippsland plain bioregion."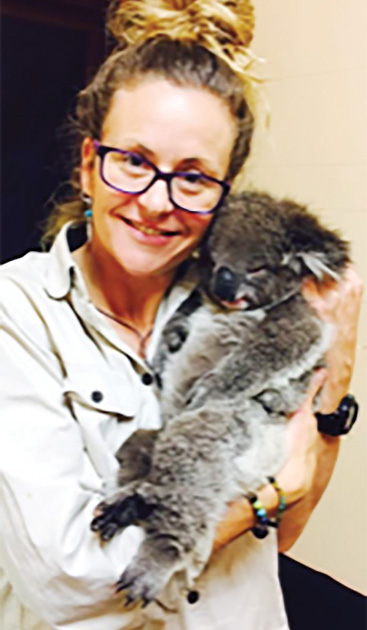 Before European settlement koalas were interconnected across the entire Gippsland plain but are now separated by agricultural land.
Koalas were hunted for their fur in the 1800s and trees were cleared, restricting the movement of koalas.
With koala numbers and genetic diversity low, a breeding program was started on French Island to reintroduce healthy koalas to the mainland using just a handful of koalas.
However, researchers soon discovered that due to inbreeding low genetic diversity and a high incidence of chlamydia was threatening their survival.
"There is one koala population in the Strzelecki Ranges which has been found to be a remnant koala population of special significance with high genetic diversity," Smith said.
"There is evidence suggesting some koalas from the original population may still remain in areas such as the Mornington Peninsula, Tooradin, Cranbourne, Koo Wee Rup, and Grantville.," she said.
"If this is the case, then it will be important to protect the genetic integrity of koalas in these regions, and conserve them as an insurance population. Individuals could be used for genetic rescue of populations where genetic diversity is low."
Anyone with koalas visiting their property or who regularly sees koalas and would like to be a part of the project should phone Smith on 0432 530 443 for a scat collection kit. Volunteers are being asked to look for koalas and use toothpicks to collect fresh scats from under the trees.
The group volunteering days on Mondays at 1pm will be held around Mount Martha, Mount Eliza and Frankston.
Interested people can join the Mornington Peninsula Koala Project Facebook page.