THE behaviour of whales in Port Phillip and Western Port appears to be changing.
Data collected by the Hastings-based Dolphin Research Institute includes a blue whale being recorded in early June near Portland. The sighting was the on record as they usually leave those water in autumn.
Questions are being asked about the effects of climate change on whale habits when the Portland sighting is competitive pods of male humpbacks appearing in Port Phillip and a humpback whale song recorded near Port Phillip Heads.
DRI Executive director Jeff Weir says these "are things that would normally occur in the sub-tropics", not Victoria.
"While COVID won't have affected the movement of whales, fewer sightings were received during the pandemic than in previous years.
"In 2021 we recorded 150 separate sighting events of three species (southern right, humpback and killer whale) and 259 individual whales.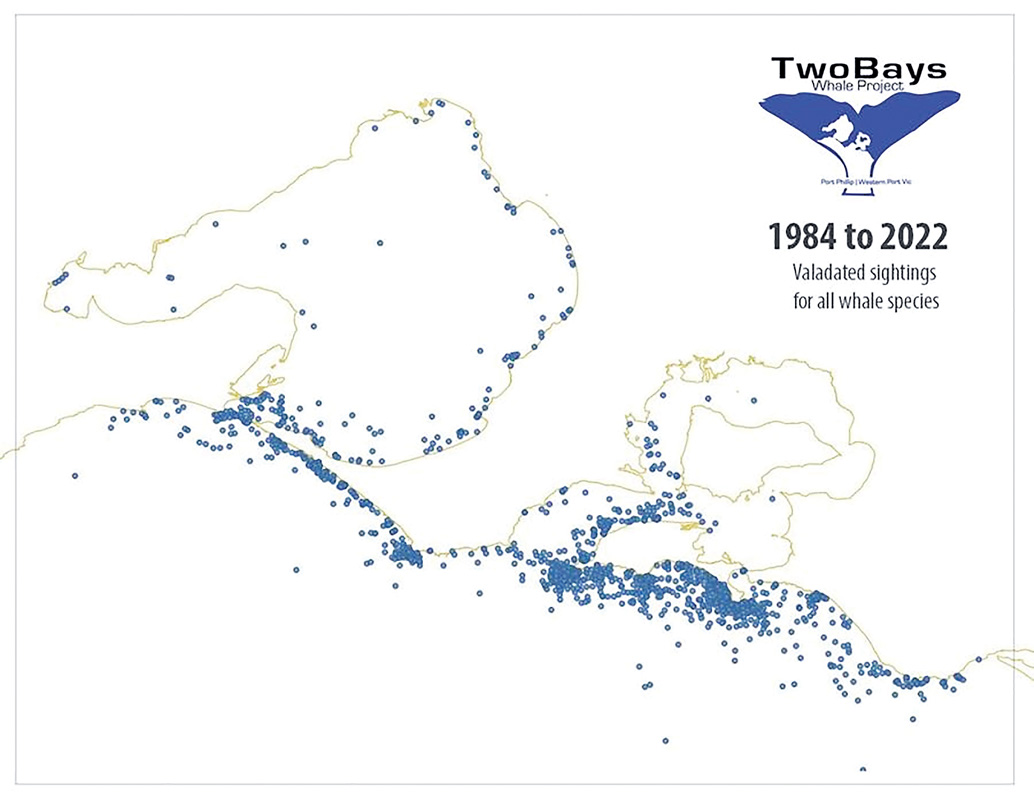 "In recent years we have recorded firsts for humpback whales feeding and birthing in our waters, and this year is the earliest onset of humpback migration since records have been kept," Weir said.
He said it was "probably too early to tell" these events were linked to climate change or "if we are seeing a new normal and what the consequences will be".
"What is certain is that the baseline data from our programs will become even more critical in the decades ahead."
The DRI this month released its updated Victorian Humpback Whale Fluke Catalogue and the season report of its Two Bays Whale Project 2021.
Weir said sharing the documents was "crucial to inform and inspire community engagement and to ensure the most recent and accurate information is available to influence environmental decision-making".
The release of the reports coincided with the launch of the DRI's adopt-a-whale program "to create new opportunities to build support for the crucial work ahead of us".
Weir said that the United Nations, with its current Decade of Ocean Science for Sustainable Development, recognised the role of science "in creating a sustainable ocean that is essential for the future of our planet".
The DRI identifies and tracks humpback whales from images of their flukes (dorsal fins for dolphins) and hosts the Victorian Humpback Whale Fluke Identification Catalogue, supporting research officer David Donnelly and adding to the work he started decades ago.
Fluke images sent to the Two Bays Whale Project are shared with other researchers through the online tool, Happywhale, finding sighting matches in Tasmanian, New South Wales and Queensland waters.
The catalogue details 205 individual whales, an increase of 55 since 2020.
Since 2015, in collaboration with Wildlife Coast Cruises, DRI and the community have recorded the movement of large whales in Port Phillip and Western Port and Bass Strait from Barwon Heads to Inverloch.
Whale sightings recorded by Donnelly since 2005 and "opportunistically collected sightings" from 1984 have been individually marked on a map. Each dot representing a whale has been validated to ensure that each one shows a discrete event (not 10 people reporting a whale off Frankston pier).
The sightings are mainly of humpbacks, southern rights and killer whales.
"It's important to stress that these sightings also reflect the presence of people, but they provide a baseline of knowledge that would otherwise not exist," Weir said.
"The data are shared with local, national and international bodies, including the Southern Hemisphere Whales and Climate Project."
Four Spot-a-Whale sessions for the public during the 1-3 July Island Whale Festival on Phillip Island. Details: islandwhales.com.au
To report sightings or Adopt-A-Whale go to dolphinresearch.org.au
First published in the Southern Peninsula News – 21 June 2022