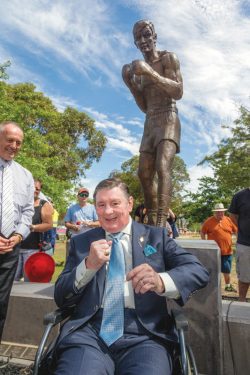 BOXING legend Johnny Famechon has died aged 77. A Frankston resident for five decades, Famechon was born Jean-Pierre in France, moving to Australia as a young child with his family and quickly taking to boxing, making his pro debut at Festival Hall aged just 16.
In the ring, Famechon was a plucky and skilled fighter who fought with heart. He skipped amateur boxing and rose through the ranks quickly after debuting, with his strong defensive style setting him apart from the rest.
Famechon's crowning glory came in 1969. In front of a huge crowd in the main event at Royal Albert Hall in London, he scored an upset world title win over highly favoured champion Jose Legra.
Famechon held the WBC World Featherweight Title for more than a year before eventually losing it to top contender Vicente Salvidar. His legendary title defences against Japan's Fighting Harada have gone down in history.
Soon after losing the title, Famechon hung up the gloves. He finished with an impressive record of 56-5-6. He was never knocked out.
Around the same time as his boxing career finished he embarked on the next stage of his life. Famechon moved to Frankston in 1970, and had two children soon afterwards. He married his second wife, long-time partner Glenys, in 1997.
Since moving to Frankston, Famechon has been an active member of the community. He helped local police run the Frankston Blue Light Boxing Club.
In 1991 Famechon was hit by a car while jogging. He suffered life-changing injuries, but learned to walk and talk again. He suffered from health issues resulting from the accident for the rest of his life.
This year, Famechon received one more honour, being made a member of the Order of Australia for his contributions to boxing.
Although he only stood at 5 foot 5 inches tall, the man affectionately known as "Fammo" was larger than life.
A statue commemorating his career towers over Ballam Park in Frankston, a fitting tribute to a resilient warrior who refused to be knocked down.