THE future of the Beleura cliff walking track at Mornington has never been under threat as much as it is now since it was opened 100 years ago.
Now closed indefinitely because of ongoing landslides, further assessments, including drainage from nearby properties, are underway.
Part of the track was temporarily closed in September after safety concerns were raised by Mornington Peninsula Shire engineers.
Since then, other landslides have swept away part of the track and the entire path has been closed.
The mayor Cr Steve Holland said closing the track was "unfortunate, but safety obviously has to be our priority".
"We have commissioned a further assessment of the path, which will include examining drainage from nearby properties, and will keep the community fully informed of the outcome," he said.
A "community meeting" has been scheduled this week between Friends of the Beleura Cliff path community group, Holland, Crs Despi O'Connor and Anthony Marsh, infrastructure and planning director Mike McIntosh and other shire staff.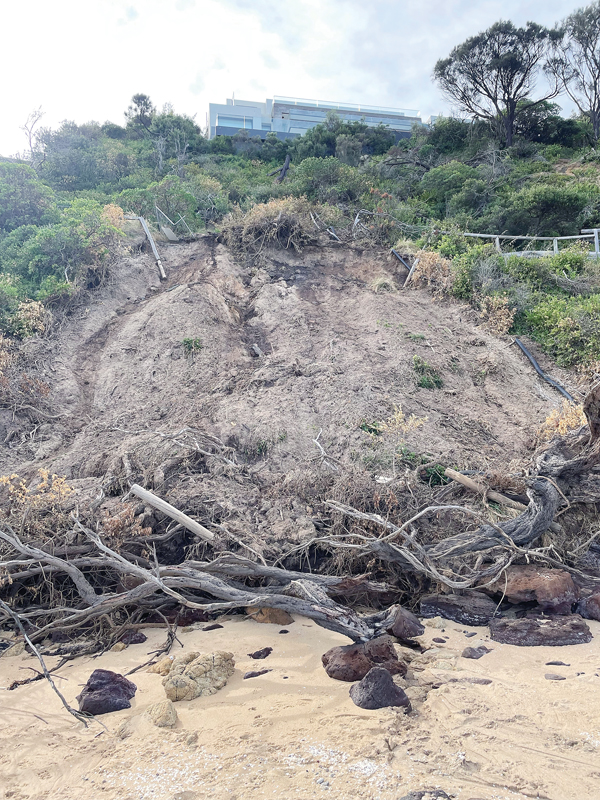 Holland said swimming pools would also be discussed at the meeting.
He said, "all pools get inspected under the state government's new safety regime; however, I don't know when these particular [infinity] pools were last inspected".
Problems with landslides blocking and sometimes completely sweeping away the track are not new, with it being closed in 2004, 2010 and 2013.
Talks between the shire and the residents' group were held in 2015, two years after the track was closed in 2013 ("Cliff track talks" The News 7/12/15).
At that stage, the state government gave the shire $50,000 to fix the problem which – the same as now – was blamed on stormwater drainage coming from properties above the track. Then MP for Mornington David Morris said the money fell short of what was needed to fix the problem.
This time around Beleura Cliff path community group member Peter Nicholson estimates it might cost $15 million to rebuild the path, based on the amount of money eventually spent to fix part of the track after the 2013 landslide.
Nicholson is certain his estimate "doesn't overstate the cost".
The shire received a report in 2004 which identified four main stormwater drains which put rainwater onto the cliff, creating the potential for landslips. Landslips then occurred in 2010 and 2013 ("Pressure on cliff track" The News 28/9/15).
The path group was heartened in October this year when the shire said it hoped to reopen the path by summer following the September landslide and would investigate strengthening protective walls along the Beleura cliff ("Summer opening for cliff path" The News 3/10/22).
But that plan may yet again have been eroded and wrecked by the cliff's instability.