AN overhaul of jet ski regulations and enforcement policies are part of a raft of changes being called for by the Mornington Peninsula Council and beach goers fed up with appalling behaviour by some riders.
In two shocking incidents this summer, boat passengers have been terrorised by rogue jet skiers, and in one case a boat was damaged and passengers knocked over.
In the latest incident at Safety Beach last Monday week (16 January) a 16-year-old who had only just obtained his marine licence allegedly intimidated boat passengers by driving close to a boat and deliberately spraying those on board with water before speeding off.
In that incident, Water Police were called and officers on the beach were able to identify the rider once he was back on shore. He was interviewed and charged with dangerous operation, exceed five knots within 50m of another vessel and fail to maintain safety equipment.
Another incident on Christmas day, also at Safety Beach, involved a jet skier with a male passenger terrorising a family on a 35-foot boat 100 metres offshore, repeatedly charging the vessel and creating a violent wake that smashed the boat's window and knocked some of those on board to the floor.
Video and camera footage taken by the family clearly shows the faces of the two men and the licence number of the vessel.
Jet ski rider behaviour is in the spotlight every summer on the Mornington Peninsula, but these and other incidents have renewed calls for exclusion zones, more policing, and a regulation overhaul.
Mayor Cr Steve Holland said the council was deeply concerned about the safety risk posed by jet skis.
"Our beaches are extremely popular and during the summer months jet ski riders and swimmers share the same space," he said.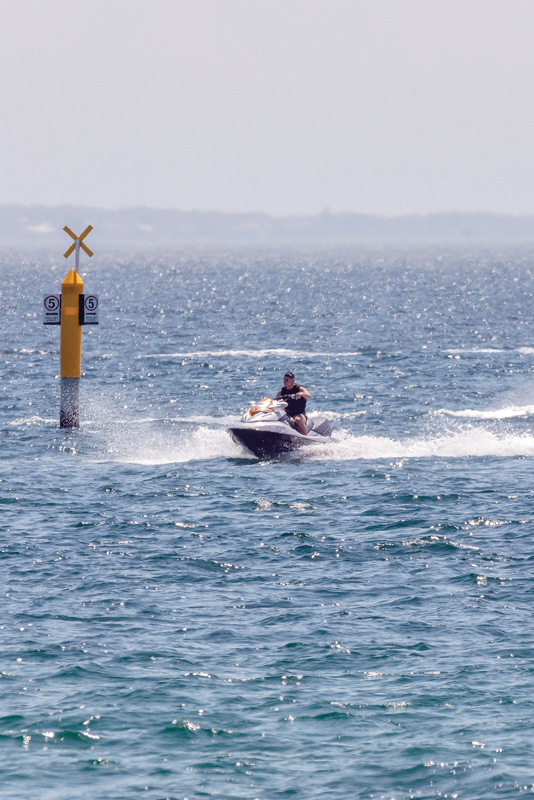 "We are aware of one death but also many near misses that do not get reported. While many jet ski riders do the right thing, unfortunately a small but significant number openly flout the rules, putting lives at risk and threatening our marine life.
"As a local council we have exhausted our options for dealing with this and have called on the state government to step in and do something. This includes expanding the swimming-only zones along the peninsula and for new jet ski exclusion zones at Rye, The Pillars and Safety Beach.
"We want the required distance between a jet ski and swimmers to be increased to 25 metres and an expansion of the 5-knot speed limit to 500 metres from the shoreline.
"We also want greater education and enforcement of the rules, including empowering shire officers to help ensure the rules are followed. If nothing is done, it will only be a matter of time before another person dies or is seriously injured.
Chair of the Rye Community Alliance, Mechelle Cheers, said it was time to move away from the compliance/enforcement model, because it had not worked.
She said an overhaul of the rules was urgent, with jet ski behaviour so bad that many people were no longer able to enjoy the beach or feel safe in the water.
"The sheer numbers of jet skis on the beaches now have just made it unworkable, many of them line up on the beaches, they ride between people in the water and they don't seem to know or care about the rules," she said.
"It's dangerous for swimmers, it's noisy and it's unsafe."
Cheers said the alliance had been lobbying council and the state government for years for jet skis to be treated separately from boats.
Regulations the alliance is calling for include making it illegal to berth on the shoreline of popular beaches, more jet ski exclusion zones, banning jet skis from marine sanctuaries including the dolphin nursery at Point Nepean national park and near the seals at China man's hat, harsher penalties, higher licence fees, noise restrictions and extending distance rules to protect marine life and other non-motorised watercraft.
The son of the 75-year-old man who owned the boat damaged on Christmas day says he is not anti-jet ski and has many friends who use them, but he is backing the call for tougher regulation.
"I have a marine licence and PWC (personal watercraft) endorsement myself, but it's just too easy to get a licence, and there is no practical element such as a skills test," he said.
"To send someone into the ocean on a powerful machine with just a pissy little piece of paper they've filled out is wrong."
The man said the violent behaviour of the jet ski rider that rushed his father's boat highlighted the need for a regulation crackdown.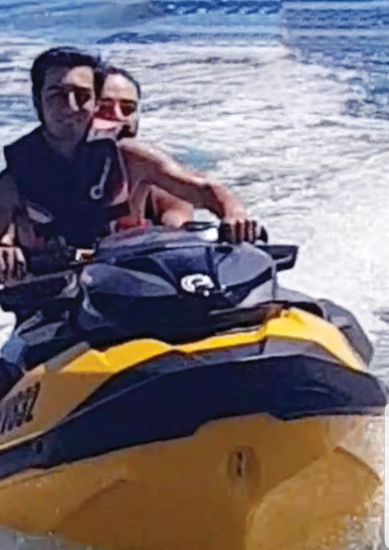 He said that about 3pm on 25 December he was with his partner, his father and his daughter, 20 and son, 17, when two jet skis came speeding past close to the anchored boat.
"I was in the water, so my partner and my father waved them off and one of them, who was carrying a passenger, came back towards our boat and they were yelling at us, putting their fingers up at us, and just swearing. I got out of the water then, but the yellow jet ski came back again to splash us and missed, so the rider came back again and spun his jet ski around sharply one metre from the boat. The force blew one of the boat windows out and knocked my misses over. I also copped a jet of water to the chest that really knocked me, and I'm 100 kilograms and 6 feet, so that's not easy."
The man, who did not want to be named, said the incident frightened his family, and highlighted the urgency of the need for more police patrols on the water.
Luckily, he was able to take a video and a photograph that clearly shows the jet skiers' faces and the vessel's licence number, however the owner apparently told police he had sold the vessel and no longer had the details of the buyer.
Water Police are still investigating. If anybody recognises the two men pictured on the Jet ski, or have information about the Christmas Day incident, should call Crime Stoppers on 1800 333 000.
PWCs are subject to 'hoon' legislation which means owners and/or operators can be prosecuted for operating an unsafe vessel, or dangerously, and PWCs can be seized, impounded and embargoed.
Director of maritime safety at Safe Transport Victoria, Lisa Faldon, said that as the safety regulator for the recreational marine sector, Safe Transport Victoria's highest priority was the safety of everyone in the water.
"Boats and personal watercraft speeding or being operated erratically close to shore are a significant risk for swimmers and other waterway users," she said.
First published in the Southern Peninsula News – 24 January 2023