A SEAL at Stony Point treated interested onlookers to an insight into its approach to preparing and eating a meal.
Bashing the raw material – in this case the carcass of a tuna – seemed to be the main approach. There was no delicate, quiet appreciation of what was on offer.
A lot of splashing and throwing the food around appeared to make it both more tender and easier to break up.
Photographer Gary Sissons thought the remains of the tuna had probably been thrown into the water after being caught, brought ashore and filleted.
Although the seal appeared to have a problem with one eye, that did not prevent it "preparing" its meal or swimming in and around arriving and departing boats.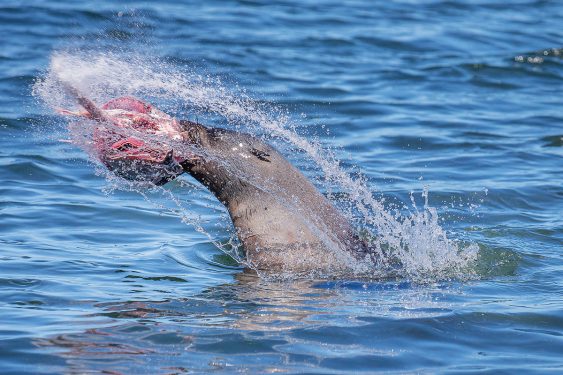 A sign at the pier warns against feeding seals and Jeff Weir, executive director of the Hastings-based Dolphin Research Centre said it was an offence under the Wildlife Act, although in this case the seal "might have just picked it up".
"It's common sense not to feed wildlife as it risks unintended consequences to the animals from poor diet and becoming conditioned," Weir said.
"There are stories of seals becoming grumpy at boat ramps if people don't feed them; attacking people and making it impossible to retrieve [their boats] and even worse."
Weir said it was probable that more Victorians had been injured by seals than sharks.
"If this guy has a bad eye then perhaps he is looking for easy catches. It's interesting that neither seals or penguins feed much in Western Port, much more in Port Phillip."